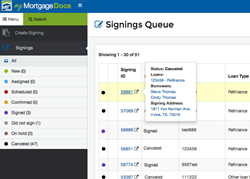 We architected myMortgageDocs™ as an industry-leading tool… enabling our clients and partners to make real-time, informed decisions for their closings
(PRWEB) September 25, 2013
National mobile notary signing leader, MortgageDocs, announced the launch of its new software platform, myMortgageDocs™, a best-in-class accountable document signing management platform for notaries, lenders, title and escrow companies. This software release firmly enhances MortgageDocs' lead as a technology-enabled premier provider of document signing and notarization solutions for some of the most reputable financial institutions in the country.
myMortgageDocs™ provides a number of cutting-edge enhancements that allow for timely order updates and reconciliation to assist notaries and firms with reporting and auditability.
"With the recent volatility in mortgage industry conditions coupled with increased scrutiny on security, we understand that compliance and borrower protection are top-of-mind concerns for our clients, " said Christian Redmond, CEO of MortgageDocs.
The new system significantly streamlines business process workflows, strengthens quality controls and enhances compliance safeguards. These safeguards are critical for a mortgage environment increasingly focused on complying with existing and newly promulgated regulations by the Consumer Financial Protection Bureau (CFPB).
Redmond adds, "We architected myMortgageDocs™ as an industry-leading tool with a smooth user interface, mobile-friendly architecture and an intuitive user experience that offers increased visibility into order status - enabling our clients and partners to make real-time, informed decisions for their closings."
myMortgageDocs™ offers flexibility and support for third-party software integration as well as direct order entry to the site. It also features real-time document tracking and adds account-level reporting and the first phase of detailed analytics.
"Believe me," Redmond says, "we have looked at the competition - we have looked at comparable systems- there is truly nothing this robust on the market within the notary signing arena. Our focus on compliance and reporting in conjunction with an automated, rules-based workflow management tool puts us at the leading edge of the market right now."
Today, MortgageDocs caters primarily to notary fulfillment orders, but the new system provides the company the required flexibility to expand their offering into other verticals.
About MortgageDocs
MortgageDocs is a national signing service company with a database of carefully screened, compliant mobile notaries, signing agents and attorneys and a proprietary notary management system, myMortgageDocs™, which was developed with a focus on security, speed and accuracy. The company works with clients in the title, mortgage and banking industries. For more information about MortgageDocs, please visit http://www.mortgagedocs.com.