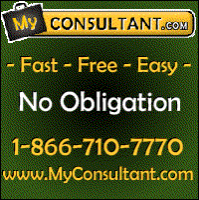 Chandler, AZ (PRWEB) July 25, 2007
Looking for an independent contractor or industry specialist consultant can pose a challenge to many people and small businesses. With MyConsultant.com, everyone and businesses can be matched together with one click of the mouse. Industry specialist consultants are prescreened to a criteria that the client fills out.
MyConsultant.com has criteria set to find a real estate specialist, SEO expert, Web design guru, real estate loan specialist or insurance specialist, MyConsultant.com will take each criteria filled out and compare it to its list of service professionals to screen out those that have the ability and resources to match the client's needs through a multiple screening process.
How does it work? Let's say a client is looking to purchase a home or a real estate commercial property. With real estate consultants, MyConsultant.com can help with both the residential or commercial real estate property search, as well helping with real estate mortgage loan; its database is that vast. MyConsultant.com wants to get the best, possible offers to fit the client's needs, while in the process of searching for a home or commercial real estate property; they match them up with a real estate mortgage specialist as well. MyConsultant.com becomes a one stop shop to make relocation easy with its innovative screening process.
A little about MyConsultant.com:
If a client doesn't know someone in the business whose products or services they are looking for, MyConsultant.com has done the consuming prescreen work for them. All the individuals and/or companies in their database have been prequalified and all adhere to a very stringent qualifications process.
Qualifications of the prescreened providers;

Licensed, maintained all trade and occupational licenses are required within areas of worked performed
Give Priority to MyConsultant.com customers
In the business for at least 3 years
Give MyConsultant.com customers special discounts
All consultants must be in good standing with the BBB & local State.
Real Estate Consultant - Local real estate consultant helps find any residential real estate property or commercial real estate property.
Mortgage Loan Consultant - Local real estate mortgage consultant helps finance or refinance a residential property or a commercial real estate property.
Insurance Consultant Advisor - An insurance agent specializing in homeowners insurance, auto, health and life insurance located in a local area.
Internet Marketing SEO Consultant - A Search Engine Optimization (SEO) Specialist has multiple years in the industry and has watched search engine such as Google grow their search patterns. These SEO Specialists understand what it takes to get your web site to the top of Google and other major search engines. An SEO Specialist database has some of the strongest SEO Specialists on the internet that have been in the industry for over an average of 4 years.
Website Consultant - A website designer uses both free hand and graphic design to create vibrant and professional looking websites for any personal or corporate needs. These website designers use the latest marketing techniques and technology to make sure that friends, family, or clients see the important information first to project the intensions of a website.
MyConsultant.com offers small businesses and industry specialist consultants the opportunity to be matched up through specific search criteria. Seeing a need for a one stop for industry specialist the client can trust.
For more information on ways to find an industry specialist consultant, visit http://www.MyConsultant.com. Contact info: (866) 710-7770.
###