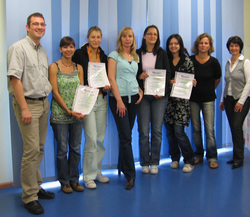 There are still many places on the world map where Mortimer is needed.
Herscheid, Germany (PRWEB) September 17, 2009
Last week Mrs Jonasova visited the Herscheid Headquarters with a team of 4 tutors. While she was prepared for her new challenge as Master Partner, her tutors received their first comprehensive teacher training.
The teaching concept was hailed with a lot of enthusiasm and joy and therefore the motivation of the new team is enormous. Iva Jonasova is very happy to be able to convey the English language in a playful way to big and small kids in the Czech Republic via the Mortimer concept.
"We all want to express our greatest pleasure that we attended the training in Herscheid, which was fantastic as well as my master partner training." was the message received from Mrs. Jonasova directly after the return of the Czech team in their home country. "We have all learnt a lot and we hope to see more of you all in the future!".
The Mortimer English Club concept proves to be effective since more than 10 years for customers and franchise partners. More than 300 independent franchise partners apply the concept in seven countries. Many thousands of customers of all age groups have experienced how much fun it can be to learn English with Mortimer.
The secret of the Mortimer teaching method is to provide an environment in which children and adults are able to learn English like a mother tongue. So no boring grammar exercises, not frustrating repetition of vocabulary lists but singing, playing and having fun in English! The growing number of customers show that people all over the world like the concept.
A close co-operation between the head offices in Hungary, Slovakia and the Czech Republic is already in the pipeline and the support of the headquarters in Herscheid goes without saying! "There are still many places on the world map where Mortimer is needed." says Jochen Blumenthal, the Franchise Managerof the German company. Mortimer Englsh Club is therefore looking for Master partners all over the world who would like to take up the task to establish the Mortimer system in their area.
###