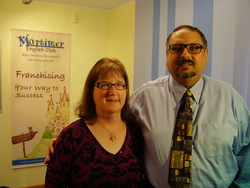 This new concept fills a large hole in our land.
Ray, ND (PRWEB) December 16, 2009
The management and employees of Mortimer-English Club at the Herscheid Headquarters proudly sit in their office amazed staring at the World Map and thinking how the international expansion courses could be very successful. In eight more countries it will soon be possible to take courses under the concept of the Mortimer-Club: Saudi-Arabia, Arabian Emirates, Qatar, Kuwait, Bahrain, Oman, Jemen and Egypt.
Mahmoud Galal, businessman from Egypt, found out about Mortimer whilst surfing in the internet for innovative education programs. He was very impressed with the concept, and also found the lesson plan for the children and adults exiting, being done in a playful way. Some time later Mahmoud and Beverly Galal visited the headquarters in Herscheid. They were both very impressed with the lesson material and saw their expectations highly fulfilled. Galal consulted his ideas with his business partner Abou Alkhair Faisal and came to the conclusion that Mortimer should capture the Arabian country.
Alkhair Faisal has taken over the Master-Franchise for the Saudi-Arabia and the Gulf States, Mahmoud Galal will be building-up the company with his Master licence in Egypt.
"This new concept fills a very large hole in our land." says Mr Galal, "There isn't much innovative offer in the segment of language education, but to learn the English language is world wide and greatly in demand. Therefore I am very happy to bring Mortimer into the Arabian world."
The training of the Master Partners was held in the beginning of December at the headquarters in Germany. Galal and his wife together with his two daughters visited the training centre, received intensive training and developed a strategic approach to roll out Mortimer in the Middle East. The Mortimer team enjoyed the time with the exotic guests and learned a lot about the Arabian culture. It is amazing to see how to speak a common language brings together people from different cultures.
The building of Mortimer headquarters in Riyadh - the capital of Saudi-Arabia - is full power under way with alterations. The delight and motivation of the Saudis is incredible: already now children and adults are showing interest. The complete Mortimer -Team would like to wish them much luck and success in their new assignment.
Altogether at this time Mortimer-English Club has 13 Master-Licences which include 15 countries. The international interest in the Mortimer concept is amazing. The owners Karola Scheer and Juergen Nauditt hope more countries soon to follow.
Mortimer is still looking for more motivated Franchise- and Master Franchise partners all around the globe who would be interested in teaching children and adults in this innovative concept or managing a language school.
###