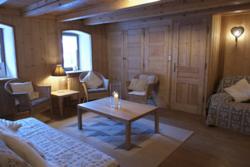 Over the last couple of years, we have experienced an increase in weekend bookings from all areas of the corporate world
Ivinghoe, United Kingdom (PRWEB) September 30, 2011
Weekend skiing is BIG, period. Look around you at Stansted, Luton or even Southampton airport on a Thursday afternoon and you'll see them - single-sex groups, generally early middle-aged, clad in the latest jackets from the Snow and Rock catalogue - and just itching to hit the slopes!
Corporate weekend skiing though is REALLY BIG. Whether it's entertaining clients, or a bit of team-building for their employees, major corporates in the Financial sector have always enjoyed their weekend ski breaks in the Alps, but there's evidence that the recession is really starting to bite!
It's still obviously essential to entertain clients and have a happy team, but there are signs that where the chi chi resorts like Verbier, Meribel and Courchevel were once the norm, so-called lesser resorts are now becoming increasingly popular.
Internet-Cottages has noticed an increase generally in demand for weekend ski trips, but what's especially noticeable is the increase in enquiries from corporate travel planners looking specifically for resorts like Morzine or Chamonix. Ian Locke from the company explains why:-
"Certainly an amount of the growth has come from companies looking at the cost, but some is also due I believe to the other resorts getting more 'kudos'. A lot of bankers' bonuses in the last couple of years were spent on buying up ski properties in the 'middle-tier' resorts, so it's now deemed perfectly acceptable to go there without appearing to be cheapskates. They're also generally a heck of a sight easier to get to!"
A perfect example is Morzine, in the Portes du Soleil ski area in France. Being just 1hr 15mins from Geneva airport it gives more time on the slopes, it has the largest skiing area in Europe and, with nightlife to suit all tastes, there's plenty to keep everyone amused. The company bean-counters are happy too though, as it costs about half as much as the fancy name resorts!
Stephanie Murdoch of Purple Piste Chalets in Morzine has witnessed this growth from the corporate sector first-hand:-
"Over the last couple of years, we have experienced an increase in weekend bookings from all areas of the corporate world – banking, finance, investment, insurance, property. With exclusive use of a private catered chalet, they can carry out their 'team talks' during pre dinner drinks and make deals over the dinner table - or of course on the chair lifts! The perfect setting to 'do business'."
Whilst it may not offer the same opportunity as Verbier or St Moritz for brushing shoulders with celebs or royalty, Morzine is still well equipped to cater for the high-flying crowd. The designer shops have now moved in, and the nightlife has expanded significantly in recent years, with a great range of bars, restaurants, cafés and nightclubs. There's no need to lower one's standards in terms of accommodation either, with luxury Morzine chalets available with those essentials like Hot Tubs, Saunas and the ubiquitous plasma screen - perfect for Corporate ski weekends.
Corporates aren't going to give up on their company ski trips any time soon - it is a huge part of the marketing budget and very essential to entertain clients. Whatever the reason for a corporate weekend ski trip though, Morzine is becoming super uber popular because it makes financial sense!
Internet-Cottages has a wide range of apartments and chalets in Morzine and the rest of the French Alps, exclusively from small operators and individual owners.
###