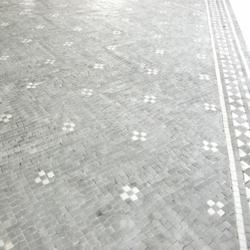 These mosaics have made their way through classical architecture, and yet today, they make the most elegant mosaic floors known to man.
Atlanta, GA (PRWEB) February 29, 2012
Gnosis, a design firm specializing in the creation of handmade mosaics, is pleased to present its Stretch collection, designed for both commercial and residential applications. Authentically hand-crafted to customized specifications, the Stretch collection is available in ten different patterns.
The Stretch mosaic patterns, which date to ancient Rome, are adaptable to either classic or contemporary styles. These mosaic floor tiles have been installed widely across North America at high-profile residences and in many commercial and cultural buildings, including the Metropolitan Museum of Art in New York, the City of Chicago Cultural Center, and the Waldorf Astoria Hotel.
"We are very excited about these patterns because they have become the most classic exemplars of mosaic surfaces," said Sandra Ghaoui, President at Gnosis. "These mosaic floor tiles have made their way through classical architecture and yet today, in my view, they make the most elegant mosaic floors known to man."
The Stretch mosaic surfaces are crafted in a single piece regardless of the surface size, making a truly organic pattern with the imperfections expected in mosaic made by the hand of artisans. The natural stone materials used to create the Stretch mosaic produces a durable flooring well-suited to a variety of interior spaces, including lobbies, offices, showrooms, kitchens, and bathrooms. The mosaics, mesh mounted for an easy installation, are available in your choice of colors and are offered in hand-polished finishes to create a contemporary look or an aged finish to emulate antique mosaics.
About Gnosis – Custom Mosaics –
Founded in 2004, Atlanta-based Gnosis, http://www.gnosis-mosaics.com, crafts custom-designed, hand-made mosaics by merging ancient crafting traditions with contemporary design. Whether clients start specifying a mosaic drawing from Gnosis' extensive catalog of designs or commission an entirely new creation, Gnosis custom makes its mosaics to each customer's choice of color, scale and geometry. In addition to the firm's work for high-profile residences and luxury commercial developments, Gnosis has partnered with established architectural and interior design firms, including Design Galleria Kitchen & Bath Studio, Harrison Design Associates, Suzanne Kasler Interiors and Grupo Diarq.
Connect with us on Facebook and Twitter
###