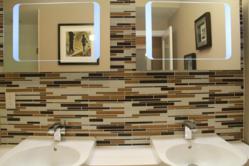 Tile is one of the best ways to enhance the appearance and value of the bathroom
(PRWEB) October 22, 2012
HomeThangs.com – the Home Improvement Super Store has made their goal to deliver the right product to the consumer, with that in mind, shopping and home design tips, as well as special product selections are being introduced.
It's fairly common knowledge that one of the best ways to enhance the appearance and value of the bathroom is to add new bathroom tiling, or replace existing tile. But picking just the right bathroom tiles – the style, color, material and size– can be a little confusing. HomeThangs.com introduced a guide to help consumers choose their tile wisely,
1. Material
Choosing the right material for bathroom tiling is one of the very first and most important steps in a major bathroom tile remodel. What material is chosen will be a major determining factor in the final look of the remodel, the cost of the tile and installation, and what kind of maintenance will have to be done over time.
a. Ceramic
Ceramic bathroom tiles are the most common, easiest to install, and are typically the least expensive. Made of fired clay and other materials, ceramic tiles are quite durable. Because they're typically glazed, they're non-porous and hold up well against water, scratching, and staining, and require very little maintenance. Ceramic tiles can be dyed almost any color and finished with more or less shine, and formed to a wide variety of shapes, including textures, like those found on the Soci Sienna Bien mosaic tile. They also make an excellent surface for hand painted tiles, but don't have any of the beautiful natural variance of stone tiles.
b.Stone
Stone mosaic tiles, on the other hand, are shaped from natural rock, meaning that no two are quite the same. This is nice for a couple reasons – it means that not only will each and every installation be unique, but also that one won't ever get an accidental pattern in tile as one can with manufactured tiles. The flip side is that if going for a very specific color, it may be hard to get a full floor worth of stone bathroom tiling to match. Smaller tiles, like the Dark Emperador, Crema Marfil, And Absolute Back Marble Tile Mosaic Sheets by Soci, for example, are designed to be "close" in color and pattern, but still come with a natural variance on each sheet. Stone is also one of the most expensive types of tile available, and it requires careful and consistent maintenance to keep the stone in good condition.
c. Glass
Finally, glass mosaic tiles have a bright, shiny finish and are available in a huge variety of colors and shapes. Typically (but not always) smaller than either stone or ceramic tiles, glass tiles have been traditionally used as mosaic tiles, for decorative rather than functional bathroom tiling. Smaller glass tiles are available in patterned sheets, like the beautiful blue Martini Mountain Lake Mosaic for example. Larger glass tiles are well suited to the walls and shower interior as they repel water and are very easy to clean.
d. Metal
Sleek, solid and unrelentingly stylish, metal tiles have changed the face of mosaics by delivering the seductive sheen of metal for interior surfaces. Metal mosaic tile can be used for almost any commercial and residential interior application, including floor accents, walls, ceilings, etc. Metal tiles must be regularly cleaned and maintained to extend their life and beauty. Most dirt and stains can be cleaned with a mild detergent and soft cloth or sponge. Fingerprints, streaks and watermarks can be removed with olive oil.
2. Texture
Texture is an important element when deciding on the new bathroom tiling primarily for safety reasons. Smooth tile (no matter what the material) on the floor will increase the likelihood of a fall accident. Textured tile, like Chiseled Ivory Travertine Tile from Soci for example, is more likely to prevent slipping. Counter and wall tiles should also be sealed and non-porous, to prevent water damage or the growth of mold or mildew.
3. Color
This one is fairly simple, and probably best left to personal taste, but as a rough guideline, white, yellow, and peach tones will help brighten and warm the bathroom, enhancing the natural light and creating an inviting space, whereas blues and greens will cool it, making it feel light and airy. Darker, more dramatic colors like black, red, or gem tones, as well as gray scale bathroom tiling will create a bold, modern look, while an all white bathroom will work well with a frequently changing decor. If opting for the last, mixing shapes, sizes, and styles will keep the look interesting, like combining this Crystal Ice Blocco Tile with a matching, smaller square Crystal Ice Piazza by Martini Mosaic.
4. Style
In a period style home, choosing period inspired bathroom tiling can be important to maintaining the overall value of your home. If home is traditional in other ways, matching a historical tile can be incredibly desirable to buyers.
For a more modern design, on the other hand, one almost definitely want to opt for stone tile floors and glass bathroom tiling throughout the rest of the bathroom. The reflective glass surface of the tile (plus the minimalist but dramatic repeating patterns available from companies like Martini Mosaic) are the heart and soul of modern design, and will definitely help elevate the decor.
5. Size
Size is an incredibly important choice as well. Smaller bathrooms are typically associated with smaller tiles, but using larger ones on the floor or in the shower can actually make the space seem larger. Using very tiny tiles in a wide space, on the other hand, can make a larger space seem crowded and busy. A lot of large tiles that are starting to look a little bland can be balanced out by a line of accent tiles, like simple but elegant Fleur De Lis trim by Soci for example, to visually divide the space.
HomeThangs.com is more than just a Home Improvement Superstore. They're constantly seeking to provide homeowners and designers with the right products at competitive prices. With a wide selection of products, expert design tips, and comprehensive shopping guides, Homethangs is a company that's there at all stages of the design process, from idea to execution. It's their goal is to make dream remodels doable.