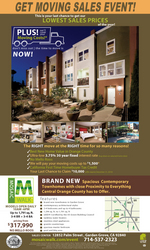 Montebello, CA (Vocus) October 20, 2010
People are always wondering if this is the right time to buy. They watch the ads in the paper, search online, listen to friends and the news. But still they wonder. The truth is that no one really knows because the right time is different for everybody. We can tell you that from a timing perspective, this is about as good as it gets.There may never be a better time to jump into home ownership for first time home buyers. To drive that point home, Mosaic Walk is having their only sale of the year. New home buyers who have been waiting for that perfect opportunity now have the chance to take advantage of so many great reasons to buy a home today that the argument to wait is not as strong as the reasons confirming why now is the perfect time to take advantage of Mosaic Walk's Get Moving Sales Event.
The Get Moving Sales Event is going on now at Mosaic Walk. With special sale prices on selected homesites starting from $317,990, that makes Mosaic Walk the best new home value in Orange County. Plus at Mosaic Walk, there are no additional Mello Roos taxes found at new home communities in Irvine.
Mosaic Walk has arranged an ultra-low 3.75% 30 year fixed interest rate, and for this sales event, will pay your moving costs up to $1,500.
You can visit Mosaic Walk on through October or visit Mosaic Walk to learn more about Mosaic Walk and the Get Moving Sales Event.
About The Olson Company
Founded in 1988, The Olson Company is California's leading developer of innovative and affordable In-town communities in established neighborhoods. The Olson Company creates uniquely designed communities which redevelop and enhance neighborhoods utilizing transit-oriented developments, live/work, mixed use developments, brownstones, single family attached and detached homes in partnerships with cities and other agencies.
Headquartered in Southern California with communities throughout the state, Olson is a recipient of America's "Builder of the Year." Further information about Olson Homes can be obtained online at Olson Homes. Mosaic Walk™ is a registered trademark of The Olson Company and In-Town Living, Inc.
###