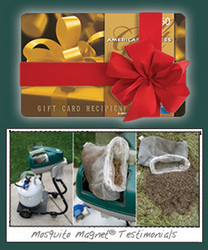 We are very exited to initiate this contest and see how Mosquito Magnet® has helped people enjoy outdoor living
Lititz, PA (Vocus) August 29, 2009
Built on Science, Service and Support, Mosquito Magnet® is the market leader in mosquito traps. With more than 18 years of research and 15+ patents, this product line is proven more effective than the competition. The Mosquito Magnet® operates by converting propane into carbon dioxide (CO2) – the most effective attractant for mosquitoes. The CO2 released mimics a human's breath at rest. In addition to CO2, a scientifically proven attractant (Octenol3 or Lurex3) is released with the CO2 to draw mosquitoes to the trap. These traps are safe & proven effective to catch mosquitoes, black flies, midges and no-see-ums.
Woodstream Corporation acquired certain assets of this brand in April of 2007 and over the past two years, the company has worked to optimize the product offerings of the Mosquito Magnet® brand. Woodstream has developed the first dedicated support program for consumers - 360° Customer Support to enhance ownership experience - US based 800#, interactive website and service centers throughout the nation. Built on sound technology, the research and testing behind this brand was used to help produce three new models – the Patriot, Independence™ and Executive traps. Mosquito Magnet® has options that vary from trap to trap, including corded or cordless models, ½-1 acre coverage and retailing from $299 to $699.
Mosquito Magnet® customers are passionate about this product as it has allowed them to enjoy the outdoors and be free of bug sprays and harmful pesticides. A contest was initiated on August 4, 2009 to find the best Mosquito Magnet® testimonial. By submitting pictures, videos, and written paragraphs, the winner will be awarded an American Express gift card.
"We are very exited to initiate this contest and see how Mosquito Magnet® has helped people enjoy outdoor living," stated Carrie Lathrop, a Marketing Associate at Woodstream Corporation. "We have already received multiple submissions and cannot wait to share our customers' experiences with this product!"
The winner will be announced on September 4, 2009 on the Mosquito Magnet® website. Existing customer testimonials can be found on the website at the Testimonials page - to hear about this brand is one thing, but to see what Mosquito Magnet® traps actually catch is amazing!
For more information please visit:
Share Your Experience - Submit Your Testimonial Today!
Mosquito Magnet® Reviews
Mosquito Magnet® Mosquito Traps
About Mosquito Magnet®:
Mosquito Magnet® is the leading biting insect trap in the consumer/residential market and is the only long-term solution that is scientifically proven to effectively reduce mosquitoes and other biting insects.
Pioneering accomplishments:

The first carbon dioxide-based biting insect trap for commercial use
The first propane-powered mosquito trap for consumer use
Lurex3™, the first and only EPA-approved attractant specifically formulated to capture the invasive Asian Tiger Mosquito, a known carrier of West Nile Virus
Patented lure cartridges to gradually release measured amounts of attractants, an advanced design to ensure cartridge replacement and propane refilling are synchronized
Invented the Counterflow™ Technology, designed to emit a precise amount of carbon dioxide, heat, attractant and moisture, while simultaneously vacuuming insects into a net, taking advantage of the mosquito's instinct to turn upwards as it approaches the trap
About Woodstream Corp:
Woodstream Corporation is a long-standing, privately held company and a leading manufacturer and marketer of quality-branded wild bird feeders, rodent control products, caring control products for pets and wildlife, decorative garden accents & natural solutions for lawn and gardens.
Woodstream Corp. acquired assets related to the Mosquito Magnet® line of products including the Defender, Liberty and Liberty Plus models and the Net and Attractant consumables associated with these products in April 2007.
###