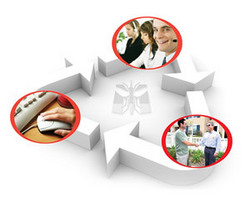 The brand has been built on science, service and support - the new 360º Customer Support Program ensures any consumer question is timely and satisfactorily addressed
Lititz, PA (Vocus) March 3, 2009
Mosquito Magnet® introduces an improved customer service program to support its line of mosquito traps. Whether you have a trap placement question or need help starting a Mosquito Magnet® trap, the new Mosquito Magnet® 360º Customer Support Program is the first line of defense.
Questions? Need Help? No Problem!
Mosquito Magnet® is dedicated to providing superior consumer care three different ways - by phone, online and in person. No other mosquito trap manufacturer offers a comprehensive post-sale service like this one.
"Mosquito Magnet® traps are backed by 18 years of research and over 15 patents that make our traps technologically revolutionary," says Andrea Long, Category Development Manager at Woodstream Corporation. "As the market's leader, it is our goal to provide a quality product backed by a comprehensive post-sale support program allowing the consumer to buy our mosquito traps with confidence."
"The brand has been built on science, service and support - the new 360º Customer Support Program ensures any consumer question is timely and satisfactorily addressed," says Long.
The Exclusive Mosquito Magnet® 360º Customer Support Program in a glance:
By Phone - 1-800-953-5737
The Mosquito Magnet® consumer care representatives have undergone extensive training to answer all questions regarding their products; including those related to trap placement, start up, maintenance, storage, etc.
Online - MosquitoMagnet.com
Log into the website for interactive trap placement assistance tools, maintenance tips, answers to FAQs and much more. Also, validate a warranty by registering a trap online.
In Person - Certified Service Centers
Please do not return Mosquito Magnet® traps to the store. They will take care of their customers! The In-Warranty and Out-Of -Warranty service is supported through their local Certified Service Centers located throughout the U.S. These Certified Service Centers have undergone extensive training to be authorized to support this product line.
For more information please visit:
Mosquito Magnet® Web Site
Mosquito Magnet® Online Consumer Support
Mosquito Magnet® Certified Service Centers
Mosquito Magnet® is a registered trade mark of Woodstream Corp.
About Mosquito Magnet®:
Mosquito Magnet® is the leading biting insect trap in the consumer/residential market and is the only long-term solution that is scientifically proven to effectively reduce mosquitoes and other biting insects.
Pioneering Accomplishments:
-The first carbon dioxide-based biting insect trap for commercial use
-The first propane-powered mosquito trap for consumer use
-Lurex3™, the first and only EPA-approved attractant specifically formulated to capture the invasive Asian Tiger Mosquito, a known carrier of West Nile Virus
-Patented lure cartridges to gradually release measured amounts of attractants, an advanced design to ensure cartridge replacement and propane refilling are synchronized
-Invented the Counterflow™ Technology, designed to emit a precise amount of carbon dioxide, heat, attractant and moisture, while simultaneously vacuuming insects into a net, taking advantage of the mosquito's instinct to turn upwards as it approaches the trap
About Woodstream Corp:
Woodstream Corporation is a long-standing, privately held company and a leading manufacturer and marketer of quality-branded wild bird feeders, rodent control products, caring control products for pets and wildlife, decorative garden accents & natural solutions for lawn and gardens.
Woodstream Corp. acquired assets related to the Mosquito Magnet® line of products including the Defender, Liberty and Liberty Plus models and the Net and Attractant consumables associated with these products in April 2007.
###