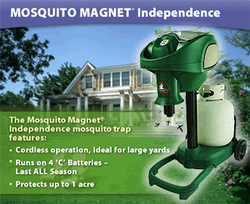 The Mosquito Magnet Independence will provide consumers the freedom to enjoy their backyard again
Lititz, PA (Vocus) April 16, 2010
The new Independence mosquito trap features patented CounterFlow™ Technology and a catalytic converter found in all Mosquito Magnet traps. Like the other Mosquito Magnet traps, the Independence converts propane into carbon dioxide, heat and moisture to simulate human breath and initially attract mosquitoes. When the insects are near the Independence, the trap's short-range attractant lures them into the unit, where they are ultimately trapped in a net to dehydrate and die.
"The Mosquito Magnet Independence will provide consumers the freedom to enjoy their backyard again," stated said Andrea Long, Category Development Manager for Mosquito Magnet – parent company Woodstream Corporation. "The Independence features the same patented design found in all our traps. We are now able to provide consumers a cordless trap at a more affordable price point."
The Independence can be positioned away from the areas where people and pets normally spend time -- making it the ideal choice for people who want their Mosquito Magnet as close to the mosquito breeding areas as possible. This cordless trap is able to operate on only four "C" batteries that will last for an entire season.
Like every Mosquito Magnet trap, the Independence is backed by more than 18 years of research proving its effectiveness at ridding yards of mosquitoes and other biting insects. Before and after the customer purchases the trap, Mosquito Magnet's exclusive 360 Degree Customer Support Program makes it easy.
"We are excited to introduce the Mosquito Magnet Independence mosquito trap," Long said. "The combination of cordless technology and the convenience of batteries are sure to appeal to people throughout North America who are hoping for relief from mosquitoes this year."
For more information please visit:
Mosquito Magnet Independence Trap
Mosquito Magnet® Reviews
Mosquito Traps
About Mosquito Magnet®:
Mosquito Magnet® is the leading biting insect trap in the consumer/residential market and is the only long-term solution that is scientifically proven to effectively reduce mosquitoes and other biting insects.
Pioneering accomplishments:

The first carbon dioxide-based biting insect trap for commercial use
The first propane-powered mosquito trap for consumer use
Lurex3™, the first and only EPA-approved attractant specifically formulated to capture the invasive Asian Tiger Mosquito, a known carrier of West Nile Virus
Patented lure cartridges to gradually release measured amounts of attractants, an advanced design to ensure cartridge replacement and propane refilling are synchronized
Invented the Counterflow™ Technology, designed to emit a precise amount of carbon dioxide, heat, attractant and moisture, while simultaneously vacuuming insects into a net, taking advantage of the mosquito's instinct to turn upwards as it approaches the trap
About Woodstream Corp:
Woodstream Corporation is a long-standing, privately held company and a leading manufacturer and marketer of quality-branded wild bird feeders, rodent control products, caring control products for pets and wildlife, decorative garden accents & natural solutions for lawn and gardens.
###