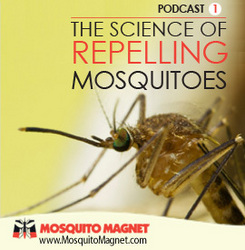 The Science of Repelling Mosquitoes
Lititz, PA (Vocus) March 26, 2010
This April, the people who know mosquitoes best are freely sharing their knowledge -- just in time for mosquito season. Presented by Mosquito Magnet® and hosted by mosquito researcher Kristen Bartlett-Healy, Ph.D., "The Science of Repelling Mosquitoes" podcast will be available on April 20, 2010.
Dr. Bartlett-Healy, who has been studying mosquitoes for 13 years, holds a Master's degree in entomology from the University of Rhode Island and earned her Ph.D. in entomology from Rutgers University -- where she currently works as a postdoctoral associate conducting research and coordinating educational efforts regarding the Asian tiger mosquito area-wide management project. During the podcast, Dr. Bartlett-Healy will draw on her unique mix of field experience and education as she tells listeners how to avoid mosquito bites and discusses why mosquitoes prefer some people to others.
"Listeners will come away from the podcast armed with the knowledge they need to enjoy the outdoors again," said Andrea Long, Brand Manager for Mosquito Magnet, parent company Woodstream Corporation. "Mosquito Magnet approached Dr. Bartlett-Healy with the idea to present a podcast that makes mosquito science accessible and understandable to everyone, and we are pleased that she agreed to work with us on the project."
The partnership between Dr. Bartlett-Healy and Mosquito Magnet was a natural one. Mosquito Magnet traps are some of the most effective mosquito control devices available, thanks to the years of research that has gone into designing and producing the multi-patented traps. Backed by scientific studies proving its effectiveness, the Mosquito Magnet converts propane -- the same kind used by gas barbecues -- into carbon dioxide, which is what attracts mosquitoes to humans in the first place. When the carbon dioxide lures the mosquitoes within closer range of the Mosquito Magnet, they are lured into the trap by a potent, short-range attractant. Once inside the trap, mosquitoes are stuck in a net, where they quickly dehydrate and die.
"Mosquito Magnet effectively disrupts mosquitoes' breeding cycles, making back yards more enjoyable for people and pets," Andrea Long, Woodstream Corporation Brand Manager, explained. "There is a science to true mosquito control, and Dr. Bartlett-Healy will be discussing how homeowners can put that science to use in their own outdoor living spaces. 'The Science of Repelling Mosquitoes' is sure to be an informative, interesting podcast, and we encourage people to tune in."
Those interested in listening to this podcast can visit MosquitoMagnet.com on or after April 20. As the date approaches, look for additional information available on the site.
To learn more about mosquitoes, how to prevent mosquitoes from breeding and mosquito dangers, please visit:
Mosquito Facts
Mosquito-Borne Diseases
Mosquito Species
About Mosquito Magnet®:
Mosquito Magnet® is the leading biting insect trap in the consumer/residential market and is the only long-term solution that is scientifically proven to effectively reduce mosquitoes and other biting insects.
Pioneering accomplishments:

The first carbon dioxide-based biting insect trap for commercial use
The first propane-powered mosquito trap for consumer use
Lurex3™, the first and only EPA-approved attractant specifically formulated to capture the invasive Asian Tiger Mosquito, a known carrier of West Nile Virus
Patented lure cartridges to gradually release measured amounts of attractants, an advanced design to ensure cartridge replacement and propane refilling are synchronized
Invented the Counterflow™ Technology, designed to emit a precise amount of carbon dioxide, heat, attractant and moisture, while simultaneously vacuuming insects into a net, taking advantage of the mosquito's instinct to turn upwards as it approaches the trap
About Woodstream Corp:
Woodstream Corporation is a long-standing, privately held company and a leading manufacturer and marketer of quality-branded wild bird feeders, rodent control products, caring control products for pets and wildlife, decorative garden accents & natural solutions for lawn and gardens.
###