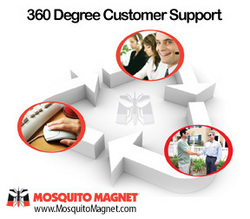 Mosquito Magnet is a long-term solution to a problem that plagues homeowners every year
Lititz, PA (Vocus) April 2, 2010
But that's only the first step. Once mosquitoes are attracted by the carbon dioxide and come near the Mosquito Magnet, they are further attracted by the short-range lure that is scientifically proven to draw mosquitoes to the trap. At that point, they are within range of the Mosquito Magnet's patented CounterFlow™ Technology, which essentially vacuums the pesky insects into a net inside the trap. Within 24 hours of being caught in the net, the mosquitoes have dehydrated and died. Research has shown the process effectively disrupts mosquitoes' breeding cycles, and that means the Mosquito Magnet has the power to put homeowners back in their yards during the warm evenings when mosquitoes typically are active.
"Mosquito Magnet is a long-term solution to a problem that plagues homeowners every year," stated Woodstream Category Development Manager Andrea Long. "The science shows that Mosquito Magnet technology addresses the root of mosquito infestations -- the breeding cycle -- and drastically reduces mosquito populations."
Woodstream's exclusive 360° Degree Customer Support program offers assistance online, by phone and in person. It makes it easy for customers to set up and properly use their Mosquito Magnet trap. Online, MosquitoMagnet.com includes an interactive trap placement assistant, tips to maximize the trap's performance, information on short-range attractants, a maintenance checklist, product FAQs, detailed troubleshooting guides and more.
In person, Certified Mosquito Magnet Dealers can help the consumer purchase the right trap for his or her yard. Every trap comes with a limited one-year warranty, and Woodstream's Certified Service Centers provide tune-ups and repairs locally after completing an extensive two day training class. A network of Independent Service Providers offers convenient delivery of nets, attractants, and/or propane. Woodstream has the industry's only dedicated call center. The US-based call center boasts highly trained Customer Service Agents to answer any question or concern about Mosquito Magnet.
"The Mosquito Magnet is rooted in science, service and support," Long explained. "The patents and research findings are only the beginning. Woodstream's extensive backend support helps customers get the most out of their Mosquito Magnet trap."
More Information:
Learn How Mosquito Magnet Traps Work
Read Mosquito Magnet Reviews
Take a Look to Mosquito Magnet's Exclusive 360° Customer Support Program
About Mosquito Magnet®:
Mosquito Magnet® is the leading biting insect trap in the consumer/residential market and is the only long-term solution that is scientifically proven to effectively reduce mosquitoes and other biting insects.
Pioneering accomplishments:

The first carbon dioxide-based biting insect trap for commercial use
The first propane-powered mosquito trap for consumer use
Lurex3™, the first and only EPA-approved attractant specifically formulated to capture the invasive Asian Tiger Mosquito, a known carrier of West Nile Virus
Patented lure cartridges to gradually release measured amounts of attractants, an advanced design to ensure cartridge replacement and propane refilling are synchronized
Invented the Counterflow™ Technology, designed to emit a precise amount of carbon dioxide, heat, attractant and moisture, while simultaneously vacuuming insects into a net, taking advantage of the mosquito's instinct to turn upwards as it approaches the trap
About Woodstream Corp:
Woodstream Corporation is a long-standing, privately held company and a leading manufacturer and marketer of quality-branded wild bird feeders, rodent control products, caring control products for pets and wildlife, decorative garden accents & natural solutions for lawn and gardens.
###