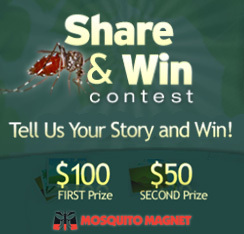 Mosquito Magnet is excited to announce this year's Share and Win Contest
Lititz, PA (Vocus) May 3, 2010
Every Mosquito Magnet® owner has a story, and Mosquito Magnet parent company Woodstream Corporation has just launched a photo contest to capture those stories. Between now and June 30, Woodstream wants Mosquito Magnet owners to tell how their mosquito trap has changed their lives and send in a picture to prove it -- all for a chance to win a $100 top prize.
The photos and stories will be posted on the new Share and Win Contest page of the website, where site visitors will vote for their favorites. The entry with the most votes as of July 16 will win a $100 American Express gift card; the second-place photo will win a $50 American Express gift card.
Entering the photo contest is quick and easy: Mosquito Magnet owners simply write a short paragraph about their experience with their mosquito trap, attach a photograph illustrating the story, and submit it directly on MosquitoMagnet.com. All entries will be posted to a gallery where visitors can view the photos, read the accompanying stories, and vote. Vote counts will be updated real-time, and a live leaderboard will let entrants know where they stand.
"Mosquito Magnet is excited to announce this year's Share and Win Contest," stated Woodstream Category Development Manager Andrea Long. "We want to hear how Mosquito Magnet has helped our customers and see images of our mosquito traps in action. We encourage all our customers to send in their stories and photos to compete for prizes."
Backed by multiple patents and research studies confirming the trap's effectiveness, the Mosquito Magnet is unlike other pest-control devices on the market. The mosquito trap uses the same propane one would use to fuel a gas barbecue and converts it to carbon dioxide, effectively mimicking the human breath that initially attracts mosquitoes. Once within range of the Mosquito Magnet trap, mosquitoes are further drawn in by the short-range attractant and then caught by the patented CounterFlow™ Technology, which vacuums them into a net where they quickly dehydrate and die. Breeding cycles are effectively disrupted, and Mosquito Magnet owners can enjoy their yards again.
"We know our customers love being able to enjoy the outdoors by using a Mosquito Magnet trap in their yards," said Long. "Now is their chance to show the world what the Mosquito Magnet has done for them, and to perhaps win one of the top prizes in the process. We're looking forward to seeing the creative and interesting entries from Mosquito Magnet customers."
For more information please visit:
Mosquito Magnet Share & Win Contest
Mosquito Magnet Share & Win Contest - Rules & Regulations
MosquitoMagnet.com
About Mosquito Magnet®:
Mosquito Magnet® is the leading biting insect trap in the consumer/residential market and is the only long-term solution that is scientifically proven to effectively reduce mosquitoes and other biting insects.
Pioneering accomplishments:

The first carbon dioxide-based biting insect trap for commercial use
The first propane-powered mosquito trap for consumer use
Lurex3™, the first and only EPA-approved attractant specifically formulated to capture the invasive Asian Tiger Mosquito, a known carrier of West Nile Virus
Patented lure cartridges to gradually release measured amounts of attractants, an advanced design to ensure cartridge replacement and propane refilling are synchronized
Invented the Counterflow™ Technology, designed to emit a precise amount of carbon dioxide, heat, attractant and moisture, while simultaneously vacuuming insects into a net, taking advantage of the mosquito's instinct to turn upwards as it approaches the trap
About Woodstream Corp:
Woodstream Corporation is a long-standing, privately held company and a leading manufacturer and marketer of quality-branded wild bird feeders, rodent control products, caring control products for pets and wildlife, decorative garden accents & natural solutions for lawn and gardens.
###