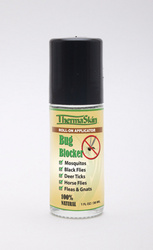 Even in tiny doses, Capsaicin repels almost every bug without exception.
Menands, NY (PRWEB) April 19, 2010
While ThermaSkin is best known for their anti-aging capsaicin skin care products, the brand's latest entry is sure to be their biggest hit for the upcoming summer season. The new ThermaSkin Bug Blocker formula is purported to be the strongest natural insect repellent ever created in a convenient roll-on applicator. This proprietary formula features proven botanicals such as Lemon Eucalyptus, Geranium, Rosemary and Cedar oils, but its most powerful "bug fighting" weapon is Capsaicin, the active heat component of hot peppers.
"We've been testing various versions of our bug blocker formula with mosquitoes, gnats, horseflies and even ticks. While lemon eucalyptus, geranium and cedar oils all provide excellent protection, the addition of capsaicin has supercharged this formula to ward off any insect you can think of. We'll gladly put our natural bug blocker formula up against any DEET product or any other natural formulation. We're confident that no other product can touch the effectiveness and safety of ThermaSkin Bug Blocker," says Wayne Perry, founder of GSC Products, makers of ThermaSkin.
While the label directions advise users to apply ThermaSkin Bug Blocker every 3 hours, GSC's corporate assessment studies have shown the formula to be fully effective up to 6 hours -- whether applied to skin or clothing. According to the manufacturer, that's nearly as good as the strongest DEET products on the market, but without the potential dangers of chemicals.
"ThermaSkin Bug Blocker is as strong as insect repellents that contain more than ten percent DEET, and we're willing to go up against any of these products in an unbiased bug repellent study. Unlike DEET products, our bug blocker is 100% natural -- so it's kid safe and pet friendly. And the amount of capsaicin is so small that users don't feel any burning sensation," adds Perry.
Aside from repelling insects, ThermaSkin Bug Blocker also conditions skin to relieve dryness and irritation caused by topical allergens and bug bites. This all natural formula is designed for all skin types with a base of Purified Water, Witch Hazel, Vitamin C and Vegetable Glycerin. While creating a barrier against biting insects, TherrmaSkin Bug Blocker also invigorates the epidermis by increasing topical circulation to relieve general irritation and inflammation.
"Anyone can use our bug blocker formula because it works for all skin types. Aside from repelling insects, we've had lots of people tell us this formula also reduces topical dryness and general irritation. I suspect that's because of the capsaicin," says Perry.
While most bug repellents need to be sprayed over the entire body, ThermaSkin Bug Blocker is equally effective when applied to small areas of skin and clothing. This colorless roll-on formulation can be applied to any surface without staining fabrics. To find out more, visit the official Greensations skin care website or find a retailer near you. Free samples are available for media and medical personnel upon request.
# # #