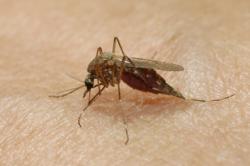 "The drought and temperature extremes in some areas can cause a delay in some stages of mosquito development, which can then rebound when temperatures become more favorable and water requirements are met," said Curtis.
Memphis, TN (PRWEB) August 15, 2012
The temperature isn't the only thing on the rise this summer.
As cities across the country feel the heat, residents may also be feeling the sting as large populations of mosquitoes threaten backyard cookouts and outdoor activities this August.
The experts at Terminix, the world's largest pest control provider, point to a warm winter and the mosquitoes' ability to adapt to changing weather conditions as the reason many homeowners are reporting increased problems with the pests.
"Because we had a mild winter in many areas, population density is up," said Paul Curtis, B.C.E., director of service quality for Terminix. "As a rule, warmer temperatures decrease the time it takes for insects to reproduce, thus producing larger populations. For example, a common mosquito type in California might go through its life cycle in 14 days at 70 degrees and take only 10 days at 80 degrees."
While many homeowners are feeling the sting during these last days of summer, many people in drought-affected areas may need to brace for incoming mosquito populations once rain begins to fall.
"The drought and temperature extremes in some areas can cause a delay in some stages of mosquito development, which can then rebound when temperatures become more favorable and water requirements are met," said Curtis. "Homeowners may see very few mosquitoes for a period of time and then suddenly clouds of them everywhere."
Mosquitoes are known for their annoyance, but scientists are also increasingly warning of the danger of these summertime pests. West Nile virus and dengue fever are transmitted by mosquitoes. According to the Centers for Disease Control, Florida has reported local cases of dengue for the first time in 75 years, as have states along the United States-Mexico border.
Dallas County, Texas declared a public health emergency this week due to nine West Nile-related deaths this summer.
Mosquitoes can also be harmful to dogs, as they are known to carry canine heart worms.
Terminix recommends homeowners heed the following to keep their families and pets better protected from mosquitoes this August:

Install an agitator in garden ponds or buy fish that eat mosquito larvae. The wave actions created by an agitator can prevent mosquito adults from successfully emerging from pupae.
Empty and refill birdbaths at least once a week.
Drill holes in the bottom of tire swings to prevent rainwater from accumulating.
Barrels or containers that capture rainwater should be emptied after a storm.
Empty "kiddie pools" regularly.
Examine gutters for clogs and damage that would cause water to collect.
Use soil to fill in low areas in lawns and landscaped areas where rainwater may collect and stand for more than seven days.
Terminix offers a line of solutions for homeowners concerned about mosquito populations around their homes. Terminix AllClear Mosquito Solutions put homeowners in control of their outdoors areas with a variety of easy-to-use mosquito misters that protect anywhere from 300 to 4,000 square-foot areas. Using an all-natural formula, these systems are proven to repel mosquitoes for hours and can be strategically positioned in a backyard or on a patio to keep outdoor areas clear.
Those interested in additional images or a product demonstration may contact Katie Wassmer, 901-260-4277, or kwassmer(at)archermalmo(dot)com.
About Terminix
Terminix is the world's largest pest control provider. Headquartered in Memphis, Tenn., Terminix services approximately 3 million residential and commercial customers in 47 states and 14 countries. Terminix provides pest control services and protection against termites, rodents and other pests threatening human health and/or safety. Terminix is a subsidiary of The ServiceMaster Company, one of the world's largest residential and commercial service networks. To learn more about Terminix, visit http://www.Terminix.com.
About Universal Pest Solutions, LP
Universal Pest Solutions, LP, manufacturer of the Terminix AllClear Mosquito Solutions, is headquartered in Dallas, Texas with field offices in Boston, Mass. Founded in 2007, the company is dedicated to ridding outdoor areas of mosquitoes and other nuisance insects. The Company identifies and develops distinct products to enhance its customers' quality of life and peace of mind by equipping them with tools and products to effectively control and eliminate mosquitoes and other nuisance insects.
About ServiceMaster
With a global network of more than 6,900 company-owned, franchise and licensed locations, Memphis-based ServiceMaster is one of the world's largest residential and commercial service networks. The company's high-profile brands are Terminix, TruGreen, American Home Shield, ServiceMaster Clean, Merry Maids, Furniture Medic and AmeriSpec. Through approximately 21,000 corporate associates and a franchise network that independently employs over 31,000 additional people, the ServiceMaster family of brands serves more than 8.2 million customers every year. Our market-leading brands provide a range of residential and commercial services including termite and pest control; lawn, tree and shrub care; home warranties and preventative maintenance contracts; furniture repair; home inspections; home cleaning; janitorial services; and disaster restoration. Go to http://www.servicemaster.com for more information about ServiceMaster or follow us at twitter.com/ServiceMaster or facebook.com/TheServiceMasterCo.
###