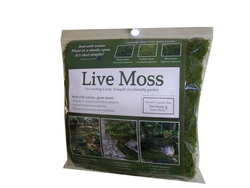 Never underestimate how much gardeners love moss and what they will do to bring it into their gardens
Philadelphia, PA (Vocus) November 16, 2010
Lawn and garden retailers now have a way to provide moss lovers and shade gardening enthusiasts with a sort of moss "sod" — an alternative to waiting for a moss milkshake to cover the garden. The Live Moss Garden Pack is a mix of dormant but ready-to-plant mosses that create an instant moss garden once watered. "Never underestimate how much gardeners love moss and what they will do to bring it into their gardens," advises Moss Acres owner, Al Benner. "They also feel good about using an eco-friendly and low-maintenance plant," he adds.
Retailers have long been asked by customers to sell live, packaged mosses, but for the last ten years moss was only available from Moss Acres in bulk and online directly to landscape architects and designers, horticulturalists and home gardeners. In January of this year, Moss Acres launched its novelty gardening product, the Moss Milkshake™, in its initial nod to independent garden centers, nurseries and gift boutiques, but also offered the product online to consumers for a slightly higher price so as not to undercut the retailer. The new Live Moss Garden Pack, which is available exclusively through retailers, answers the retail call — in lawn vernacular — for "sod versus seed," with the Moss Milkshake being the equivalent of seed — slow growing and less expensive coverage than the instant effect available with the Live Moss Garden Pack.
Lawn and garden retailers, craft stores and florists have sold "dried and dyed" ornamental mosses for years, but those mosses were a) often not true or real mosses, b) not meant to be planted, and, c) were often sourced from public or over-harvested land, thereby endangering certain moss species. The true mosses in the new Live Moss Garden Pack are meant specifically to be planted — or transplanted — and nurtured with moisture and shade, just as they are in the private woods of Pennsylvania where they are harvested sustainably.
The Live Moss Garden Pack contains a mix of two square feet of common, live, dormant mosses, and is a "starter kit" of sorts. Packaging 5 square feet or more of dormant mosses for resale was unwieldy for Moss Acres, so they decided to reduce the amount of mosses and pack them in a clear, compact, biodegradable bag with a simple, colorful insert that suggests uses in the garden and contains transplanting directions.
Based on retailer feedback to date, moss products are easy to merchandise throughout the store — with grass seed, flower seeds, ferns, shade- and acid-loving plants, pH testers, rain barrels, sprinklers, misters, or as an impulse novelty item at the register. "We hear comments such as 'The Moss Milkshake is a customer favorite,' and 'Excellent product to add diversity,'" notes Benner on the response to the Moss Milkshake from retailers. He expects the same response to the Live Moss Garden Packs.
Retailers also love the fact that the mosses in both products have an extended shelf-life, because they are dry and dormant, and can last for months or from one season to the next. It also means they can order the Live Moss Garden Packs for the holidays and sell customers on the fact that the gift of mosses will remain dormant until planting time in spring.
Moss Acres knows well the passion of moss lovers and moss gardening enthusiasts, and has always been committed to eco-friendly and sustainable products. Retailers are always looking for the next big thing to offer customers and feed the home gardening trend, while also appealing to the green movement. The Live Moss Garden Pack matches the needs of both the retailer and gardening customer with something small, simple and green enough to be the next big thing in shade gardening.
About the Live Moss Garden Packs
Live Moss Garden Packs contain a total of two square feet of three moss species — sheet, broom and cushion moss — packaged in a clear, biodegradable, compostable bag with a color insert listing uses and planting directions. The mosses are dry and dormant for lightweight shipping and extended shelf life, but rehydrate and turn vibrant green upon being planted and watered. Live mosses are for shade gardens only and are not suitable for arid climates.
About Moss Acres
Moss Acres is the leading supplier of four types of live moss and moss accessories to gardening enthusiasts, landscape architects, designers and contractors, and to the green roof industry. Moss Acres also manufactures the Moss Milkshake™, and conducts workshops for enthusiasts and professionals. To learn more about mosses, subscribe to the bi-monthly newsletter, Moss Musings.
Contact information
For additional information on Moss Acres or any of its products or distribution, contact Nancy Church, Partner and Director of Business Development. nancy(at)mossacres(dot)com. Nancy is also available to contribute byline articles, quotes, images and copy for articles.
###