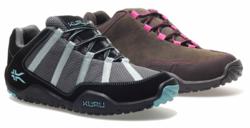 Salt Lake City, UT (PRWEB) April 20, 2012
KURU Footwear is helping its customers celebrate Earth Day 2012 through its innovative KURU CARES(TM) program. This industry leading program encourages customers to register their purchase and KURU will donate a portion of profits to the chosen cause. KURU's customers feel strongly about protecting the environment and this program is a way for the company to support the causes most important to their customers.
With spring around the corner, people are starting to spend more time outdoors, especially in nature. Company founder Bret Rasmussen said, "We started KURU with a line of comfortable trail shoes to help our customers connect with nature. When we combined our amazing products with the unique KURU CARES program, our customers responded even more positively than we could have imagined".
Of the various social and environmental causes customers can choose from, The Nature Conservancy is the most popular. This only validates how important preserving the earth is to KURU's customers.
Even though Earth Day will come and go, KURU encourages its customers to donate from every purchase made throughout the year.
To learn more about KURU CARES(TM) and the company's line of hiking shoes, visit: http://www.kurufootwear.com
ABOUT KURU:
KURU Footwear is a fast growing, web-driven footwear brand that is obsessed with creating the most comfortable shoes. To this aim, all KURU shoes feature the unparalleled KuruSole(TM) technology that dynamically adapts to each wearer's unique foot shape for unprecedented support and comfort.