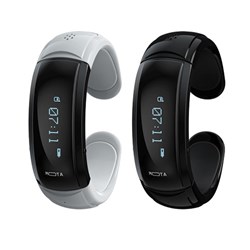 MOTA will be at the forefront of consumer electronic trends.
Sunnyvale, CA (PRWEB) February 03, 2014
MOTA announces the availability of its first generation SmartWatch, a wearable device for a hands free solution exclusively on Groupon. The MOTA SmartWatch pairs with all Bluetooth enabled smartphones including Apple iPhone and Samsung Galaxy via a stable 2.4 Ghz wireless frequency.
"MOTA will be at the forefront of consumer electronic trends," said Kevin Faro, Vice President of Sales and Marketing. "Wearable technology is a fascinating industry and we believe consumers will respond very well to our innovation and product experience."
The watch is engineered for superior performance. The specifications include integrated premium speakers, a microphone, and a vibrant LED screen. Users are alerted of incoming calls with a gentle vibration. The easy-to-read LED screen displays caller ID for existing contacts, incoming call numbers, the time, battery level, and other functions. Incoming calls are answered by pressing any button on the display. Phone conversations can be carried via the high-quality built-in microphone and speaker system. The anti-lost feature alerts owners more than five feet away from the phone. This new SmartWatch is stylish, easy to use, and comfortable. It's the hands-free solution for today's mobile technology.
"MOTA is launching its SmartWatch on the internet's most vibrant and active shopping experience, Groupon. This creates a sense of excitement and exclusivity for Groupon's tech-savvy subscribers," added Kevin Faro.
MOTA SmartWatch will be available for purchase in limited quantities starting February 3rd, 2014 via Groupon.com.
For pricing information please visit the following link on Groupon.com:
http://www.groupon.com/deals/gg-mota-smart-watch-with-bluetooth
For product information, please visit MOTA website via the following link:
http://www.mota.com/products/wearable-technology/mota-smart-watch.html
About MOTA
At MOTA, we create new exciting experiences through inventions. Our passion for technology, innovation, and human fulfillment drives us to the forefront of global marketplace.
With over 400 employees world-wide, MOTA is dedicated to creating a better world through its diverse technologies. Services include portable power sources, audio and video, integrated appliances, computing, personal care, and mobile accessories.
For additional information, please visit http://www.mota.com