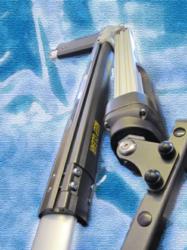 Autochair's NEW Olympian Hoist is reputed to be the highest capacity lifting Wheelchair Hoist in the world!

It's capable of lifting a 200Kg or 440lbs Scooter, Powerchair or Wheelchair!
Derbyshire, UK (PRWEB UK) 6 May 2012
Scotland's biggest Motability Show is back for its sixth year with expectations that it will be the best one ever!
Taking place on 10th May at Hall 3 SECC in Glasgow the event is expected to attract over 3500 visitors. A unique and popular event it is free to members of the public and is unlike any other as it brings together the largest collection of Motability vehicles, car adaptation specialists and mobility aid companies.
With an office in Kirkcaldy, Fife, Autochair Limited is one of Scotlands leading manufacturers and suppliers of specialised vehicle adaptations for people with limited and/or reduced mobility. They will be presenting a wide selection of their innovative, functional and versatile adaptation products that provide life changing mobility solutions to thousands of people world-wide.
A fully kitted out demonstration vehicle, together with highly experienced members of the Autochair Mobility Assessment Team will be on-hand to demonstrate products, organise and book customer assessments and offer free help and advice on all Autochair products and services.
As the latest edition to Autochair's established hoist range, the Olympian Hoist provides those with reduced mobility quick and effortless loading of a scooter, power-chair or electric wheelchair into their own vehicle.
After extensive research into customer needs, the new Olympian Hoist range was designed to offer 100kg, 150kg, or 200kg lifting capacity. The Olympian 200kg hoist is now reputed to be the highest lifting capacity hoist of its type!
Olympian Hoists are designed to suit customers wide ranging requirements and can be used specifically to lift larger, wider and longer scooters and heavier power-chairs into a whole range of different vehicles.
The new Olympian Hoist is extremely versatile and can be finitely adjusted to suit many different makes and models of vehicles. The highly extendable and adjustable hoists allow for very fine adjustments to be made, ensuring each installation perfectly fits and suits a customer's specific requirements.
Manufactured & distributed here in the UK by Autochair, Olympian Hoists are made from high strength, lightweight aluminium. They have a very sleek and elegant design whilst offering both strength and agility. The product is very reliable and sturdy and gives volumes of confidence to the user when lifting heavy wheelchairs and scooters.
Autochair's range of Olympian Hoists come with a variety of features including a hand held power in/out control unit for simple, effortless loading and unloading - all at the touch of a button!
Milford Person Lift - The New Milford SmartBase Mobile Unit
Customers will immediately recognise the Milford Person Lift as a top seller in the Autochair product range. The launch of the New Milford SmartBase at the Mobility Roadshow will showcase new improvements that will guarantee its continued sales success.
The Milford SmartBase is constructed entirely from aluminium and weighs less than 6kg, making it 15% lighter than its predecessor, ensuring greater versatility and portability than ever before. The increased lifting capacity of the new Milford SmartBase means it can now lift up to 150kg (23.5 stone), in comparison to its previous capacity of 112kg (17.5 stone), giving the benefit of extra support, greater comfort and safety where needed.
Other improvements mean that leg positioning can now be reset once a person is in situ thus alleviating any problems manoeuvring from place to place. The castors on the base of the Milford SmartBase ensure that it can be wheeled on hard flooring and soft floor coverings such as carpets. The Milford SmartBase neatly folds up into a compact position with the handle facing upwards making it easy to wheel along behind you – shopping trolley style.
Impressively, the Milford Person Lift has been lifting people in and out of vehicles for the last 16 years. Simple to use and highly versatile, it fits in most vehicles and can also be used at home or in the office; With either a fixed wall bracket or the new mobile SmartBase.
A body sling secures around the torso and under the legs while the person is seated and a simple hand control electronically lifts and lowers the person using its on-board battery unit. Once lifted, the person can easily be manoeuvred from one location to another using the three point pivot system. The multi-purpose Milford Person Lift takes less than a minute to assemble and its mobile SmartBase can be easily transported making a family holiday or a trip away with friends a very simple and uncomplicated affair.
The exhibition stand will also display Autochair's Swivel Seat solutions and the renowned Smart Driving Controls product range which are designed to make driving a vehicle easier for people with disabilities. The range includes Push-Pull hand controls, Left Foot Accelerators and a device to control the secondary driving functions of the vehicle such as the lights and indicators. Visitors to the stand can make the most of all the help and advice available from the friendly and experienced Autochair Team and pick up the latest product brochures and leaflets for the full Autochair mobility product range.
Commenting on attending Arnold Clarks Motability Roadshow, Autochair's Regional Assessor Steve Wilkie says:- "We are all very excited to be launching our range of Olympian Hoists at the Roadshow. It will be a great opportunity to meet lots of people for whom these new products will be positively ideal. They will get a real hands-on opportunity to try the products for themselves and see what a real difference they can make. Once again, it cements our long established reputation as being one of the foremost and most innovative Scottish Motability Adaptations Installers around.
Our highly popular 'try before you buy' policy allows our existing and potential customers to make very informed choices about what adaptation solution best fits their lifestyle and personal circumstances."
-ends-
About Autochair
Autochair specialise in the manufacture, service and fitting of vehicle adaptations for disabled drivers and passengers around the world. Established over 30 years ago, Autochair is a family business that has developed a reputation for service, delivery, quality and attention to detail that has made success possible. The customer is at the heart of everything they do from the service they provide to the products that they have developed and continue to develop.