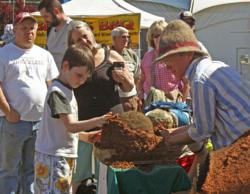 The turnout at this year's Seven Springs Fair – and feedback from attendees – prompted us to add a third day.
Topeka, KS (PRWEB) January 05, 2012
Looking to grow and prepare your own food, raise backyard chickens, or use green materials for your next remodel? Or maybe you're ready to dive into a renewable energy project but aren't sure where to start.
Then mark your calendar to attend one of the 2012 Mother Earth News Fairs.
Mother Earth News, the largest and longest-running publication about self-sufficient lifestyles, will hold its second annual Mother Earth News Fair June 2-3 at the Puyallup Fairgrounds in Puyallup, Wash.
The Fair also will return Sept. 21-23 to Seven Springs Mountain Resort, outside of Pittsburgh. With attendance up 30 percent at the 2011 event, organizers have added a third day of programming and activities for 2012.
"The turnout at this year's Seven Springs Fair – and feedback from attendees – prompted us to add a third day," says Andrew Perkins, event director.
Several nationally recognized experts will keynote each event. Puyallup keynotes include Growing Power CEO and former basketball player Will Allen, Polyface Farms organic farmer Joel Salatin, mushroom expert Paul Stamets, actor/activist Ed Begley Jr., and Mother Earth News publisher and author Bryan Welch.
Animal scientist Dr. Temple Grandin and homesteader/author Jenna Woginrich will join Begley, Salatin and Welch at the Seven Springs Fair.
Additional presenters will be named closer to each event date. Begley's appearances are sponsored by Envirolet.
Attendees can participate in more than 150 workshops, plus take in vendor demonstrations and booths, family-friendly activities, musical acts, and artisan food tastings. The Mother Earth News Fair features programming about real food, organic gardening, small-scale livestock farming, homesteading, do-it-yourself projects, green building and remodeling, renewable energy, natural health, green transportation, and related topics.
Tickets range from $15-$30 for preorders, and $20-$35 on-site. New in 2012, the Fair debuts a limited number of VIP tickets that provide weekend-long priority seating at workshops, hospitality areas with local and organic foods and beverages, a Mother Earth News Fair T-shirt, a Mother Earth News archive DVD, and more.
Exhibitor space for 2012 is filling fast with many vendors returning from 2011.
To purchase tickets, inquire about exhibiting or check programming, visit MotherEarthNewsFair.com or call toll-free 800-234-3368.
About Mother Earth News
Mother Earth News (http://www.MotherEarthNews.com) is the Original Guide to Living Wisely. Topics include organic gardening, do-it-yourself projects, cutting energy costs, using renewable energy, green home building and rural living.
About Ogden Publications Inc.
Ogden Publications Inc. (http://www.OgdenPubs.com) is the leading information resource serving the sustainable living, rural lifestyle, farm memorabilia and classic motorcycle communities. Key brands include Mother Earth News, Natural Home & Garden, Utne Reader, Capper's and Grit. Ogden Publications also produces environmentally friendly housewares through Natural Home Products LLC, and provides insurance and financial services through its Capper's Insurance Service division.
# # #
NOTE: High-resolution photos available upon request.