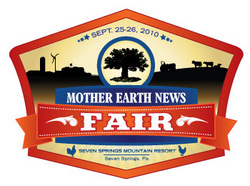 Topeka, KS (Vocus) April 20, 2010
To celebrate her 40th birthday, Mother's coming to visit. Mother Earth News, the largest and longest-running publication about green lifestyles, will host the first Mother Earth News Fair Sept. 25-26 at Seven Springs Mountain Resort, near Pittsburgh. The magazine plans to roll out additional fairs across the country in 2011.
The Mother Earth News Fair will cover organic gardening, renewable energy, small-scale livestock, green building and remodeling, do-it-yourself projects, real food, natural health, green transportation and related topics. Dozens of experts, including Mother Earth News staff and editors from sister publications Grit, Natural Home, The Herb Companion and Utne Reader, will lead the sessions.
"These fairs, like the Mother Earth News Eco-Village that preceded them, are designed to help people live more self-sufficient, conscientious lives by bringing them real projects that they can implement at home — and have fun doing it," says Bryan Welch, publisher and editorial director of Mother Earth News.
Between the mid-1970s and mid-1980s, Mother Earth News hosted thousands of visitors each summer at its 600-acre Eco-Village in Hendersonville, N.C. The Eco-Village served as a hands-on research center, with attendees learning about everything from beekeeping to cordwood construction through experimental gardens, houses and energy projects.
In addition to workshops, the Fair will host family-friendly activities, musical entertainment, vendor demonstrations, a green shopping pavilion, and local and organic food. Attendees also can purchase discounted lodging and activity packages through Seven Springs Mountain Resort.
Seven Springs Mountain Resort, an Ogden Publications sister company, was selected as the inaugural host of the Mother Earth News Fair based on its environmental stewardship, resource management and environmental protection practices.
Seven-Star Inc. will provide event production services, including on-site recycling and waste-reduction services.
To stay up to date on Mother Earth News Fair information, sign up for the event's e-newsletter at http://www.motherearthnews.com/fairupdates.
About Mother Earth News
Mother Earth News is the Original Guide to Living Wisely. Topics include organic gardening, do-it-yourself projects, cutting energy costs, using renewable energy, green home building and rural living.
About Ogden Publications Inc.
Ogden Publications Inc. is the leading information resource serving the sustainable living, rural lifestyle, farm memorabilia and classic motorcycle communities. Key brands include Mother Earth News, Natural Home, Utne Reader, Capper's and Grit. Ogden Publications also provides insurance and financial services through its Capper's Insurance Service division.
About Seven-Star Inc.
Seven-Star Inc. is the nation's largest full-service event company focusing exclusively on green events. Since 1999, Seven-Star has provided turnkey green event services for environmentally Responsible and socially Respectful (eR/sR) festivals, trade and consumer expositions, conferences, concerts, and mobile tours. From the greening of the 2008 Democratic National Convention and Live Earth events to producing the nation's largest consumer Green Festivals, Seven-Star has defined itself as the company for eR/sR event production. Seven-Star is the first event company to win the EPA's Gold WasteWise Award for Excellence, in recognition of the company's proprietary system of event waste diversion. The system has consistently achieved greater than 85 percent waste diversion.
About Seven Springs Mountain Resort
Seven Springs Mountain Resort, located in Seven Springs, Pa., is the perfect place for family vacations that create lifelong memories. Each year the family-friendly resort hosts more than 1 million overnight and day guests, who enjoy a vacation that includes the finest skiing, snowboarding and golf that Pennsylvania has to offer, the exhilaration of sporting clays, and the luxurious Trillium Spa.
# # #