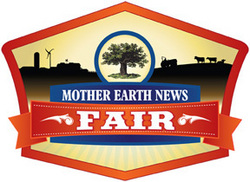 Seattle is a great place for the Mother Earth News Fair
Seattle, WA (Vocus) November 17, 2010
After welcoming capacity crowds to the first Mother Earth News Fair in Pennsylvania, the magazine is scheduling two new events on the West Coast.
Mother Earth News, the largest and longest-running publication about sustainable lifestyles, will host another Mother Earth News Fair June 4-5, 2011, at the Puyallup Fairgrounds outside of Seattle.
"Seattle is a great place for the Mother Earth News Fair," says Bryan Welch, publisher and editorial director of Mother Earth News. "Seattle residents are among our most loyal readers and the community has a long history of commitment to the Mother Earth News lifestyle."
Dozens of hands-on workshops will cover renewable energy, small-scale livestock, green building and remodeling, organic gardening, DIY projects, real food, natural health, green transportation and related topics. Mother Earth News staff will lead the sessions, as well as editors from sister publications Grit, Natural Home, The Herb Companion and Utne Reader, and other leaders in green and rural living.
In addition to workshops, the Fair will host a green shopping pavilion, vendor and livestock demonstrations, a seed swap, children's activities, musical acts, and local and organic food options.
For information about event sponsorships, contact Andrew Perkins at partnerships(at)ogdenpubs(dot)com. For exhibit space, contact Mellissa Crouch at mellissa(at)sevenstarevents(dot)com.
The magazine also plans to host fairs in Marin County, Calif., and Seven Springs, Pa., next fall.
About Mother Earth News
Mother Earth News (http://www.MotherEarthNews.com) is the Original Guide to Living Wisely. Topics include organic gardening, do-it-yourself projects, cutting energy costs, using renewable energy, green home building and rural living.
About Ogden Publications Inc.
Ogden Publications Inc. (http://www.OgdenPubs.com) is the leading information resource serving the sustainable living, rural lifestyle, farm memorabilia and classic motorcycle communities. Key brands include Mother Earth News, Natural Home, Utne Reader, Capper's and Grit. Ogden Publications also provides insurance and financial services through its Capper's Insurance Service division.
About Seven-Star Inc.
Seven-Star Inc. (http://www.sevenstarevents.com) is the nation's largest full-service event company focusing exclusively on green events. Since 1999, Seven-Star has provided turnkey green event services for trade and consumer expositions, conferences, concerts and mobile tours, including the 2008 Democratic National Convention, Live Earth concert events and the Green Festivals.
# # #