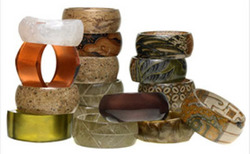 Cynthia decided to go with natural elements such as batik fabric, sand, banana bark and even some dried leaf
New York, NY (PRWEB) March 4, 2009
GeoArt By Cynthia Gale has launched into the 2009 Spring Season with the usual focus on beautiful, original, handcrafted jewelry and intricate designs. However, this year the company also has its eye on the economy.
Sought after for original repousse designs, Cynthia Gale jewelry is custom designed for such clients as The Metropolitan Museum of Art and the Washington National Cathedral. New pieces continue this tradition of classic, timeless, meaningful images, forms and textures, distinguished by a marked Balinese influence. With a nod to the unknown market ahead, though, the jewelry designer has created more affordable pieces without compromising on hallmark design found in her museum shop jewelry.
"Cynthia decided to go with natural elements such as batik fabric, sand, banana bark and even some dried leaf," explains spokesperson Fatima Fidan of GeoArt By Cynthia Gale. According to Fidan, the new line cornered the trend market at the Accessoire Circuit and filled personal needs of the New York International Gift Fair while attracting new shoppers at Accessories the Show in Las Vegas.
Fidan points to the "Forget Me Knot" Collection, with hand-carved sterling silver and mother of pearl jewelry pieces, designed in unique, bold styles to complement this season's "big is better" look.
"Clients who can't afford the new spring apparel line can freshen up last year's looks and their closets with this season's price conscious Cynthia Gale jewelry. They can continue a commitment to fashion trends, but more affordably, but stacking some Cynthia's resin bangles filled with various elements of nature, such as the sands of Bali, banana tree bark and dried leaf," says Ms. Fidan, "or the organic-shaped bangles in this season's hottest colors of Enigma Orange and Ellington Green. We even have some fabulous bangles filled with antique, batik fabric, an original and unique way of bringing the exotic lands of the Far East to your great style."
GeoArt By Cynthia Gale promotes buying smart in these tough times. The new collection reflects their philosophy that even more affordable jewelry must be beautiful, unique, timeless and go a little further by being meaningful.
All GeoArt By Cynthia Gale, including the new "Forget me Knot" Collection of sterling silver and mother of pearl jewelry and the Natural Element bangles (Fidan emphasizes these are big hit with the young trendsetters), are now available for purchase at the GeoArtNYC Web site.
About Cynthia Gale:
A former international fashion model and a graduate of the Fashion Institute of Technology, Cynthia Gale first became enthralled with the art and culture of Indonesia during a modeling assignment in Jakarta. In 1991, she returned to Bali and was inspired to create pieces for GeoArt By Cynthia Gale. In the late 1990s, the signature Cynthia Gale Collection of custom quality sterling silver jewelry was created and distributed nationally. Her latest line, incorporating distinctive elements with mother of pearl, silver, batik fabric and banana tree bark join the Cynthia Gale jewelry collection. Pieces are available in many museums, Neiman Marcus, Nordstrom and many other boutiques throughout the United States, in addition to the online retailer MaxandChloe.
###