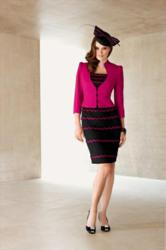 first ever exclusively plus size event of London Fashion Week
Exeter, Devon (PRWEB UK) 9 January 2013
On the weekend of the 15th and 16th February 2013, the first ever exclusively plus size event of London Fashion Week is taking place. London Plus Size Fashion Weekend; organised by Trapped in a Skinny World fashion boutique and Evolve, the popular magazine for plus size fashion.
As a highly regarded bridal boutique, La Bella Bridal have always considered the real woman when selecting designers to showcase. The Mother of the Bride collection is of particular interest, given the wide range of audiences it must cater to, from young, sexy, confident mothers looking to draw attention to shapely curves, to those who are less confident about their own shapes and need extra reassurance from their mother of the bride outfits that they are highlighting key areas whilst discreetly covering those less favourable.
With the move towards plus size becoming ever more accepted in mainstream fashion, here is a guide to the latest Mother of the Bride dresses by some of La Bella's top designers.
Ian Stuart
Ian Stuart offers a shape and style to suit any shape in the 2013 collection. Look out for the particularly beautiful gold and pink check tweed dress and coat outfit for a stylish warm winter wedding. A figure flattering style used for the first time in Mother of the Bride wear is the peplum, a great way to create an hourglass silhouette on a more straight figure.
John Charles
The John Charles 2013 Mother of the Bride collection uses detailing to draw attention both to and from areas the wearer may wish to show off or disguise. Flower prints and animal prints play key roles, kept demure and understated with the palette of pastel hues, ivories and creams.
Condici
Condici's 2013 collection contains trademark knee length skirts and dresses in a wide range of colours. The nod to an understanding of today's real women is the inclusion of delicate wraps and shrugs to accompany strapless dresses where shoulder and upper arm cover is limited. A well known 'problem area' for many women, Condici offers a confidence giving solution without compromising on style.
Ronald Joyce
Another designer with a wide range of colours to choose from, Ronald Joyce's designer, Veni Infantino has used her wealth of knowledge and expertise to craft a 2013 collection to flatter the natural curves of a woman's physique. From floor length maxi gowns to sharp pencil skirt suits, the collection is wide and varied.
Gina Bacconi
The Gina Bacconi collection for 2013 is eagerly anticipated. With the A/W 2012 collection showcasing beautiful sheer fabric draping and sleeves to flatter fuller figures and bold detailing a key feature with colour and pattern, there is a lot to look forward to when this collection launches very soon.
La Bella Bridal is proud to stock all of the above designers and more, and welcomes enquiries from anyone looking to find a suitable outfit for a special occasion.