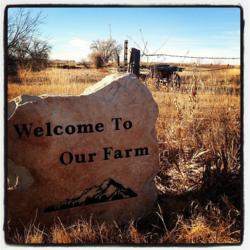 It seems full circle, after running the business of Motherlove for over twenty years to return to growing the plants I love and teaching others about them. — Kathryn Higgins, founder of Motherlove Herbal Company
Laporte, CO (PRWEB) April 22, 2013
Motherlove® Herbal Company (http://www.motherlove.com) announced today their intentions to lease and operate an organic farm and education center. The 120-acre organic farm is located on the Front Range in Northern Colorado. "The roots of Motherlove came from growing herbs and teaching others to use herbs to create personal care and herbal medicine. Those products that I created for my own family eventually became the Motherlove line of products," said Kathryn Higgins, founder of Motherlove Herbal Company. "It seems full circle, after running the business of Motherlove for over twenty years to return to growing the plants I love and teaching others about them."
"My sisters and I grew up living off the land. Growing our own food and medicine was a way of life," said Silencia Cox, Kathryn's daughter and vice-president of Motherlove Herbal Company. "Motherlove and I were born at the same time, and our family history is tied to growing the herbs that my mother used in our early products. This farm is intended to be an opportunity to share our love of herbs and the importance of organics with our community."
The legacy farm will supply the Motherlove line of products with local, sustainable, certified organic herbs. An additional 60 acres will be planted with traditional organic grains and vegetables.
The farm will also function as an educational community center. Plans include classes for families on growing, harvesting and preparing herbs for use in personal care products, including the herbs used in Motherlove products. The farm will also offer herb identification sessions for wild edible and medicinal native plants. Educational series will focus on the importance of organics in the food industry, sustainability, biodiversity and other environmental issues, including water conservation.
"This is a dream come true," said Cox. "I can think of no better way for Motherlove to reconnect with our roots than farming. We are passionate about giving back to the community that has given us so much. I am excited for my mother to be able to share her knowledge and wisdom with our friends and neighbors. We hope to create a true legacy."
About Motherlove:
Motherlove has been the trusted leader in herbal pregnancy, breastfeeding and baby products since 1990. All of their products are rated zero for toxins by Skin Deep, the toxicity database. Based in Laporte, CO, Motherlove Herbal Company was conceived by nationally recognized herbalist and author Kathryn Higgins. Through Motherlove, the journey of childbirth is supported by Nature's healing herbs. Motherlove is dedicated to crafting the finest quality, safe and effective products for pregnancy, breastfeeding and babies, while supporting the sustainable practice of growing and gathering herbs with integrity and reverence for our planet.