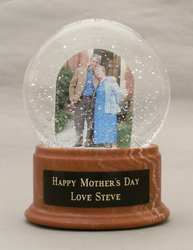 Denver, CO (PRWEB) April 12, 2010
Mother's Day is near, May 9, 2010, and we all know we have to do something special for Mom because, well it's Mom. There is the typical card or flowers but those soon lose their appeal. Why not explore a great new alternative to that special day for mom? Custom personalized snow globes will last and bring the special meaning of endless memories.
Snow Globe Central's new and improved web site allows users to create a custom snow globe. The unique thing about these photo snow globes is that customers design their own gift from the many choices of quality materials provided to ensure a beautiful, lasting personalized snow globe.
Users start off by supplying one or two photos that will be secured in the middle of the snow globe. There are four different ways to crop the photos users provide. Next, users get to pick one of the 12 base style options. Pick from one of the seven styles of cast marble bases, walnut bases, the high-end finished aluminum bases for a modern or classical design, or even the 24 karat gold plated base. Each base that Snow Globe Central provides is a quality item that will secure your glass snow globe with pride.
As users continue the process of designing their personalized snow globe, confetti is the next choice to make. There are 38 styles of confetti to pick from, and 8 styles of colored dust which you can choose to put in your snow globe. Of course one of the confetti choices is the standard snow seen in all snow globes.
No custom snow globe would be complete without adding an engraved plate with a special message. There are 4 styles of plates to choose from as well as 4 styles of typeface to choose for that special message. One or two plates can be attached to the snow globe. Snow Globe Central will even take the hassle out of gift wrapping by mailing your custom snow globe in a gift box with a ribbon.
Snow Globe Central is where dreams and great memories are enhanced with a personal touch.
About Snow Globe Central:
Snow Globe Central is a manufacturing company specializing in high quality custom snow globes. We invite you to design your own tiny world of wonder in your own special snow globe. Upload a photo, choose a base and the confetti — and we will make this personal snow globe for you. See how other customers have preserved their best memories from weddings, holidays, and other special occasions in our snow globe gallery or check out the Snow Globe Central blog. We have been building custom snow globes for over 15 years. Our mission is to make you smile.
# # #