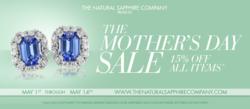 New York, NY (PRWEB) May 01, 2012
The Natural Sapphire Company, the largest online retailer of natural, untreated sapphires and sapphire jewelry is celebrating moms everywhere with their annual Mother's Day Sale. All sapphires and finished jewelry pieces will be marked with a 15% discount. The Mother's Day sale, available through the company's website http://www.TheNaturalSapphireCompany.com, will run from May 1st through May 14th.
"Mother's Day is a time when we can give back to one of the most important people in our lives. We want moms across the country to feel special this May," said Michael Arnstein, CEO of The Natural Sapphire Company. "Sapphire jewelry is always a thoughtful gift. Flowers might fade, but sapphires last forever. While Mother's Day might come around once a year, we want mothers to feel cherished and loved every day."
Mr. Arnstein suggests sapphire earrings and sapphire necklaces for Mother's Day gifts. In addition to the company's gold sapphire jewelry, The Natural Sapphire Company also offers an affordably priced silver collection featuring sapphire pendants, necklaces, and earrings.
The Natural Sapphire Company is also launching a promotional section for exceptional pieces from their sapphire collection. This new section will feature some of the company's most impressive pieces, including a 4.11 carat pink sapphire ring, a 9.16 carat Burmese blue sapphire and diamond ring, and a rare 27.46 carat padparadscha sapphire. Items will be specially discounted up to 30% off.
The Natural Sapphire Company invites its customers to enjoy the Mother's Day Sale through May 14th, and to visit the new exceptional pieces collection.
About The Natural Sapphire Company:
The Natural Sapphire Company specializes in mining, sourcing, and selling natural untreated sapphires. Founded in 1939 by Walter Arnstein, the company is now a third-generation family business. The Natural Sapphire Company supplies sapphires to retailers, jewelry manufacturers, and private clientele. The company launched its Internet retail section in 1999 and has since become a popular e-commerce website. The Natural Sapphire Company is known to have the world's largest collection of natural, untreated loose sapphires, as well as offering for purchase a one-of-a-kind, 69.35 carat natural oval blue sapphire.