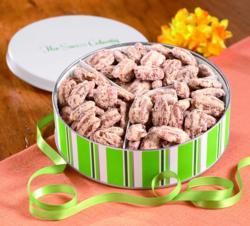 Moms have trusted The Swiss Colony to deliver delicious, special occasion gifts for more than 85 years.
Monroe, WI (PRWEB) April 24, 2012
Food gifts are easy to give and even easier to receive. That's especially true when a gift is purchased from a reputable company like The Swiss Colony whose Midwestern bakery has been baking up sweets for more than three quarters of a century. Mothers around the U.S. will be delighted to open up a lovely box of dreamy chocolates, pretty Petits Fours, or award-winning butter toffee from a company they can trust. (http://www.swisscolony.com)
This spring, Swiss Colony has many Mother's Day gift options to suit her interests and all the flavors she loves. If gardening is her hobby, the new Butterfly Shaped Petits Fours ($19.95) and Butterfly Chocolates ($19.95) would be a nice surprise. Practical moms would appreciate either the new Daisy Poppy Mug Assortment ($19.95) or the Spring Flower Gift Tower ($32.95) with colorful keepsake tins can be enjoyed long after the sweets have been eaten.
If she prefers lemon to chocolate, there are brand new citrus delights moms can indulge in such as, Lemon Almond Candy ($15.95), Strawberry Lemon Bark ($19.95) and Strawberry Lemon Swirl Cake ($21.95).
For mothers who play cards or entertain, snack gifts are popular too. The Spring Bridge MIx Gift Tin ($16.95) and the Candy Coated Pecans ($21.95) are traditional classics. A wide variety of nuts and snacks can be found in the mouth-watering catalog and online.
There are many choices for Sugar Free gifts as well. In fact, there are more than 20 options ranging from Sugar-Free Cherry Cordials ($26.95) to Sugar-Free Butter Toffee Crunch ($20.95).
"Moms have trusted The Swiss Colony to deliver delicious, special occasion gifts for more than 85 years," says Becky Henke, VP of Food at The Swiss Colony. "This Mother's Day, consider returning the favor by sending her a gift that she's guaranteed to enjoy."
There's something for everyone each season, with more than 500 mouth-watering products in Swiss Colony's catalog and online shopping site.
About The Swiss Colony
The Swiss Colony is a family-owned Wisconsin company that has been creating food gifts for over 85 years. Affectionately known as "America's Holiday Bakery," Swiss Colony insists on the highest quality ingredients for a large selection of festively packaged gifts for every occasion. Exclusive recipes developed by their European Master Bakers and hand-decorated novelties like no other are just two of the reasons customers include The Swiss Colony as part of their annual holiday traditions.