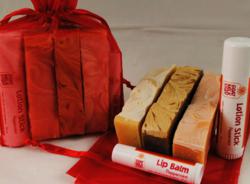 Today is your day so enjoy it all day long; sit back and relax and hear your Mother's Day song.
Charlestown, IN (PRWEB) May 04, 2012
With a song in their hearts and pampering on their minds, the 8 Jonas children salute their mom PJ Jonas, founder of Goat Milk Stuff, in a video serenade expressing how kids feel on Mother's Day.
In enchantingly lyrical offers to do chores, online at http://tinyurl.com/cgfjc6m, the kids, aged 4 to 15, sing, "Today is your day so enjoy it all day long; sit back and relax and hear your Mother's Day song." Other children can easily learn the tune to sing to their moms or guardians too.
Goat Milk Stuff makes and markets wonderfully soothing all-natural goat milk soaps and other products and has a special array of Mother's Day gift ideas at its website, http://www.GoatMilkStuff.com. Founded by a mom, PJ, the company knows the importance of pampering moms with soaps they make on the Jonas family's Indiana farm, where each child helps with age-appropriate chores from milking goats to packing soaps.
The reasonably-priced and luxurious soaps recently featured in Oprah Magazine (tinyurl.com/7tyy8mw) and by the Today Show, bring spa-like pampering to moms at home. The fragrant aroma and silky soft feel of Goat Milk Stuff soaps will make moms feel appreciated and pampered all year long.
Goat Milk Stuff's Gift Guide (at http://www.tinyurl.com/86lfxso) makes gift selection a breeze as they arrive by two-day Priority Mail. Highlights include:

Beauty Pack for $20 includes 3 half bars of soap, a lotion stick and lip balm;
Scent Pack at $13 has soap in an organza bag and a fragrantly scented soy candle for a Mom's quietly blissful bath time
Strawberries & Champagne limited-edition soap at $6 has rich lather and delicate scent;
Twin Pack for $13 has a full 5-ounce bar of soap and a lotion stick;
Gift Box at $45 includes a whole package of pampering for Mom with 2 bars of soap, 2 small lotion sticks, 2 lip balms and 2 small bath fizzies.
Since 1914, when President Woodrow Wilson declared Mother's Day a national holiday to be held the second Sunday of May, it has grown with hugs of appreciation to be America's third biggest gift-giving occasion after Christmas and Valentine's Day.
PJ's husband Jim, Chief Soap Maker (CSM), said, "Mothers are the heart of families and our main customer at GoatMilkStuff.com. On Mother's Day children honor Moms for their devotion and love and what better way to express that then by pampering Mom each day with all-natural, luxuriously soothing, goat milk soap."
In addition to GoatMilkStuff.com, the Jonas business maintains an active social media presence with a growing following on Facebook at http://Facebook.com/GoatMilkStuff, at YouTube.com/GoatMilkStuff, at Twitter.com/GoatMilkStuff, and even at Pinterest.com/GoatMilkStuff.
Goat Milk Stuff™ is based in Charlestown, Indiana, and markets natural goat milk Soaps, Lip Balms, Lotions, Bath Bombs and Laundry products. Online at http://www.GoatMilkStuff.com, the Jonas' company markets a full range of products that are quickly shipped directly to consumers. For media, licensing and entertainment, contact Brian Dobson at DobsonPR.com or bd (at) dobsonpr.com.