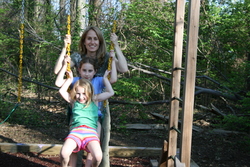 Reston, VA (Vocus) April 30, 2010
Breakfast in bed is nice, but what mom really wants most for Mother's Day is time together with her family that she doesn't have to plan, cook for, or clean up after, and doesn't cost a lot. The National Wildlife Federation's Be Out There campaign has some good suggestions that meet all of these requirements. Best of all they get everyone outside to enjoy a breath of spring.
Plan a picnic -- Prepared by the kids and eaten while surrounded by nature's beauty will be much appreciated. Even peanut butter and jelly sandwiches taste great when eaten in the fresh air and sunshine.
Take a hike -- With a backpack filled with wildlife guides, binoculars, water bottles, a magnifying glass and snacks, plan an easy hike at a nearby local, state or national park. If your children are small, a one mile loop can be an easy way to get some fresh air and check out the local wildlife (http://www.nwf.org/naturefind can help you find the perfect spot just using your zip code). Bring back any natural "treasures" you may find along the way and make a collage for the frig so mom can be reminded of her great day.
Visit a garden -- There are some wonderful local gardens open on Mother's Day that mom would love to visit.
Plant a Mothers Garden -- Start a tradition and plant some special flowers for mom every year. Try to pick perennial varieties that will bloom around Mothers Day. It's the gift that keeps on giving.
Surprise mom with an outdoor adventure -- Whether it's going on a bike trail, visiting a lake to rent a row boat or canoe, or checking out a local nature preserve, kidnap mom for some outdoor fun.
Grab dad or another adult and build a bird nesting box. When it's done, take mom outside and let her decide where to hang it. The National Wildlife Federation has some easy to follow directions for building one at http://www.nwf.org/nestingbox .
Here is what some mom's say about being outside with their kids:
"Something magical happens with me and my kids when we're outside and away from distractions. We listen better, we share, we notice more about the plants and animals around us, and we become closer as a family." -- Rebecca Cohen, mother of school-aged children, outdoor lifestyle expert, and spokesmom for the National Wildlife Federation.
"When we go outside, my kids become their best selves. Gone are the petty arguments about whose turn it is to go first or what to do next. Suddenly the kids are creative, digging in the dirt, picking up worms, jumping and laughing." -- Renee Limon, mother of two and co-founder of EnviroMom.com
''I took my kids on an impromptu trip to the park recently where they climbed trees, found hideouts in the bushes, made necklaces of grass and leaves. No plastic involved, no batteries required. I found, as I always do, that I could breathe a little easier, my fuse wasn't so short, I had a smile on my face -- even though the sink was full of dirty dishes, I hadn't yet started dinner, and the homework was yet undone. Some things are just more important.'' -- Ashley Waldvogel Gaddy from Savannah, GA.
For more fun ideas on how to enjoy being outside with your kids go to http://www.nwf.org/family .
Media Contact: Amanda Cooke, Cookea(at)nwf(dot)org, 703-438-6041.
###