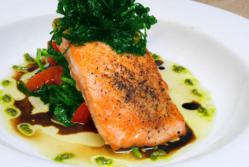 Redwood City, CA (PRWEB) May 07, 2011
Saggio, the premier Redwood City Italian restaurant known for its Tuscan-style cuisine, is ready to serve mom this Sunday, May 8th, from 5:00 to 9:00 pm. Instead of navigating the hustle and bustle of the brunch crowd at other restaurants, guests are invited to treat mom to a relaxing Redwood City Mother's Day dinner at Saggio. The Tuscan-style restaurant recently launched a new menu that includes brand-new dishes and old favorites, including vegetarian and non-vegetarian cuisine.
"Being of Italian heritage, I take my Italian food pretty seriously and I would say this place definitely lives up to my expectations. The restaurant itself is very nice and great for an intimate dinner with pretty surroundings," said a Yelp reviewer. "I definitely want to come back here and try some more of the food."
There's something for every mom on the new menu, from classics like Chicken Cacciatore and Veal Marsala to veggie entrees like Ravioli Mamma Rosa, cheese ravioli with mushrooms, artichokes, sweet bell peppers and fresh tomato.
All dishes are made from scratch using fresh local produce, fresh seafood and homemade pasta. They make their own sauces and use only 100% first cold press virgin olive oil. All of their ingredients are delivered fresh daily and are of the highest quality. In addition to in-house dining, there is the option of ordering food online or booking a reservation to dine in.
"The dishes were outstanding, easily the best Italian meal I have had this year. Nicely portioned, spiced and tasted great. For dessert we had the tiramisu; I say we but I only got a forkful taste as it was too good for my wife to share," said another Yelp reviewer. "Unusually light and fresh, the presentation showed an eye for detail that I've previously seen at pricier locations. In summary, a great dining experience at a reasonable price. We will be returning, and sooner rather than later before it gets too popular!"
For more information about this special Mother's Day event in Redwood City or any services from Saggio, call them at (650) 369-9000, visit them on the web at http://saggio-restaurant.com, or visit their restaurant at 2397 Broadway Street in Redwood City.
About Saggio
Conveniently located in the heart of Redwood City, Saggio Restaurant is a 60-seat Italian restaurant. It's perfect for everything from a romantic meal for 2 to a private party for 60. Saggio Restaurant is intent on upping the ante with a delicious, healthy Italian seafood and vegetarian menu that will push the culinary envelope of Redwood City Italian food.
# # #