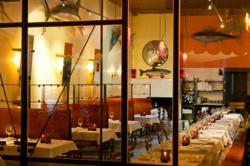 The future of a child is the work of his mother.
San Francisco, CA (Vocus/PRWEB) May 04, 2011
Hailed as one of the best seafood restaurants in San Francisco, Plouf Seafood Bistro is a European-style café on charming Belden Place that specializes in French cuisine with San Francisco flair. The fashionable bistro is celebrating a French-style Mother's Day on Sunday, May 8th from 11:30 a.m. to 9:00 p.m. Plouf has announced its special prix fixe menu made just for maman, which features three courses; a starter, main dish, and dessert for $35.
The French have a long history of honoring mothers. Napoleon was one of the first to encourage a celebration of mothers saying, "The future of a child is the work of his mother." More than 100 years later, Napoleon's Fête des Mères (Mother's Day) was made official in 1950. Though it is not celebrated on the same day each year in France, the holiday does boast many celebrations in honor of mothers, much like in America. It is usually a family affair, and mothers are treated with gifts, cards, poems, flowers and dinner. Plouf continues this tradition of honoring mothers in their San Francisco restaurant with a special Mother's Day menu.
Plouf offers French café-style dining. Located on Belden Place, a decidedly European café and bistro-lined alley, Plouf offers outdoor seating amid twinkling lights below the towering buildings of San Francisco's Financial District. This French bistro is a charming setting for Mother's Day.
The $35 Mother's Day prix fixe menu offers a specially chosen selection of first, second, and third course items, including:
First Course

Fanny Bay oysters (6) on the half shell, champagne mignonette
Baby lettuce, shaved radishes, walnuts, goat cheese, fine herbs, balsamic vinaigrette
Blackened shrimp & Anson Mills grits, broccoli rabe, scallions, tasso ham cream
Escargots en persillade, parsley, garlic butter, white wine
Second Course

Prince Edward Island mussels, choice of preparation
Sautéed salmon, white bean purée, mushrooms, chard, pancetta-red wine reduction
Mary's Organic Chicken, pan roasted breast, confit leg, herb crêpe, Brussels sprouts, natural jus
Braised short ribs, potato puree, roasted root vegetables, caramelized onion, horseradish gremolata
Roasted local artichoke, warm quinoa salad, garlic butter, Dijon mustard vinaigrette
Third Course

For more information about Plouf's special Mother's Day menu, please call (415) 986-5576, visit their website at http://www.ploufsf.com, or come to visit one of San Francisco's best restaurants at 40 Belden Place in San Francisco.
Plouf Seafood Bistro is one of the best seafood restaurants and hosts the best happy hour in San Francisco. Plouf specializes in mussels, oysters, unique appetizers, salads, seafood dishes, and meats, along with being known as a one of the top San Francisco crab restaurants. "Plouf" is the sound a stone makes when it drops into a French stream. Chef Mark Papedis studied cooking in France, served as chef at the Ahwahnee Dining Room in the world-famous Ahwahnee Hotel in Yosemite National Park for three years, and served as chef at Wente Vineyards in Livermore for the last five years.
###