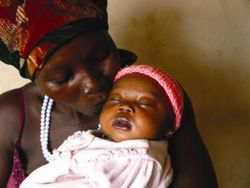 Westport, CT (Vocus) March 19, 2010
This Mother's Day, Save the Children has a special gift for your mom that can save a newborn's life in some of the poorest, most remote communities in the world. For as little as $13 you can buy, in your own mother's name, one Newborn Care Kit, which consists of lifesaving supplies and information for a new mother and her baby.
Depending on the country, the kit contains soap, a clean cloth to wrap the baby, guidance on breastfeeding and a knit baby cap to provide warmth during the first critical hours of life. It also helps with the costs of training community health workers who make home visits to mothers without easy access to hospitals or clinics.
Nearly 4 million babies die each year in their first month of life -- half within the first 24 hours of life -- mostly from preventable and treatable causes such as pneumonia and diarrhea. Thousands of these young lives can be saved with existing, affordable solutions. This gift can help give a mother the supplies and education she needs to give her baby a healthy start in life.
For more information, please visit:
http://www.savethechildren.org/gifts/gift-catalog/product-newborn-care-kit.html
Save the Children is the leading, independent organization that creates lasting change for children in need in the United States and around the world. Save the Children USA is a member of the International Save the Children Alliance, a global network of 29 independent Save the Children organizations working to ensure the well-being and protection of children in more than 120 countries. Follow us on Twitter and Facebook.
###