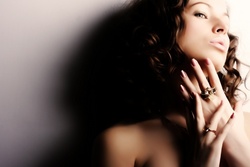 Henderson, Nevada (PRWEB) April 24, 2009
GemFind.com, a leading online jewelry and diamond retailer since 1999, is offering the best deal for online shoppers seeking dazzling high quality designer name brand jewelry in all price ranges in celebration of Mother's Day. Now through May 10, all jewelry on GemFind.com is 25 percent off with no tax and free Super Saving Shipping available on all orders over $50. For orders more than $250, GemFind.com offers free 2-day shipping. No coupon code is necessary - the 25 percent off discount is automatic at checkout.
"Our industry-leading discount of 25 percent plus No Tax and Free Shipping gives online shoppers, with limited budgets due to the recession, the opportunity to purchase stunning name brand rings, bracelets, earrings, necklaces and pendants for Mother's Day at the lowest online price," said GemFind.com CEO Alex Fetanat. "GemFind.com shoppers never sacrifice quality for low price. Since 1999 we have been the leading jewelry industry premier trading company with the highest quality designer jewelry, lowest prices on the Web, and an unparalleled 45 day return/exchange policy. In addition, GemFind.com is a member of the American Gem Society as well as the Better Business Bureau. This Mother's Day and everyday, our customer's satisfaction comes first and the quality and pricing of our certified loose diamonds, designer jewelry and timepieces is unmatched."
In addition, for couples thinking of getting engaged or married this spring or summer and prefer to shop online for the best bargain, GemFind.com is now the only online jewelry network where online shoppers can buy high-quality certified loose diamonds, designer jewelry, engagement rings and wedding bands on the Internet at the lowest price while also having the opportunity to examine their online selection in-person at a local pre-approved affiliate jeweler. Future brides and grooms shopping online at GemFind.com can make a selection from the website's vast inventory - and then either purchase their wedding band or engagement ring immediately online or choose to review their loose diamond selection in-person locally with the company's unique "See It First" program.
Visit http://www.gemfind.com for more information.
About GemFind.com
Since 1999, GemFind has been a trusted name with consumers, diamond dealers, manufacturers and industry professionals. By pooling the resources of their extensive network with established, reputable diamond jewelers throughout the nation, GemFind.com offers unsurpassed convenience, selection and reliability to consumer jewelry shoppers online. GemFind is a Member of the American Gem Society as well as the Better Business Bureau.
Media Contact:
Ria Romano, Partner
RPR Public Relations, Inc.
Tel. 786-290-6413
# # #