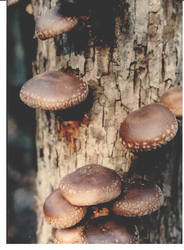 If Mom loves mushrooms, gardening or gourmet cooking, then a shiitake log kit and the Shiitake Sampler Cookbook are right on target.
Perkins, OK (PRWEB) April 28, 2010
"Mother's Day is perfect timing for giving a shiitake gift log kit," according to the Mushroom Lady, Sandra Williams of Lost Creek Mushroom Farm. "Right now the world's second-most favorite mushrooms are popping out of hardwood logs on shiitake farms across America. This is their natural 'fruiting' season, browning under the springtime sun, and bringing forth their gifts of high-protein, low-fat deliciousness, impressive health benefits, and," she added, 'their magical gift of joy."
"Open the box, soak the log in ice water and harvest is only 6-10 days away. The ice water triggers the fruiting cycle. Then you let the log rest, soaking every two weeks in room-temperature water for two months. With two logs, you can alternate fruiting and get shiitakes every month. It's easy and fun.'"
If Mom loves mushrooms or gardening or gourmet cooking, then a shiitake mushroom log kit and a Shiitake Sampler Cookbook are right on target. She'll have fun watching one of the world's most flavorful mushrooms grow right in her living room. She'll enjoy cooking with the highest quality, organic gourmet shiitakes. "They like light, not dark; and they'll grow every two months for years," Williams said.
With Lost Creek Mushroom Farm's unique Shiitake Gift Basket, which includes a little 6-inch 'Shroomie, Mom can have it all. "She can enjoy shiitake soup and dips right now and harvest her own fresh mushrooms inside of two weeks," Williams explained.
"It's a good bet Mom hasn't tasted the deep flavor and the meaty texture of shiitakes grown on real logs," she continued. "Shiitakes from the grocery store are generally grown on blocks of sawdust and lack the flavor, density, and health benefits of shiitakes grown on logs."
"They're good for us in their nutritional and medicinal benefits," the Mushroom Lady said, speaking of the shiitake's well-known ability to stimulate the immune system, fight viruses, and lower cholesterol. "In olden times shiitakes were used to relieve grief. They especially help us heal from old griefs of the past, because these amazing mushrooms stimulate and enhance our sense of joy."
Shiitake Mushroom Log Kits from Lost Creek Mushroom Farm include eight recipes. In addition, Lost Creek carries Janet Bratkovich's cookbook The Shiitake Sampler, with 51 shiitake recipes for $7.95.
Lost Creek Mushroom Farm shiitake log kits include ready-to-fruit logs, instructions and recipes. They are guaranteed to produce. Ten-inch long, single-log kits sell for $28.50. The Ma & Pa Kit contains two 10 -inch logs and will grow shiitakes every month by alternating the producing log. The Ma & Pa Kit sells for $47.50. The Original Kit, a 14-inch log with its own tray for soaking, fruiting, and resting the log, is $43.95; and the Best Buy, two Original kits, sells for $76.00. The Gift Basket is $49.95. All prices include shipping. A portion of sales support Mushrooms in Ghana Project.
Order online at http://www.shiitakemushroomlog.com or by phone at 1-800-792-0053, or on Amazon.com at slightly highter prices. Mail orders can be sent to Lost Creek Mushroom Farm, PO Box 520, Perkins, OK 74059. With the exception of the northern half of California and parts of Nevada, orders placed by 10 am May 3 CST will arrive by Mother's Day with no additional shipping.
# # #