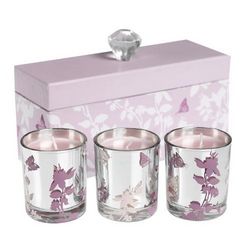 (PRWEB) February 19, 2008
Online gift retailer Dotcomgiftshop has launched its range of Mothers Day presents for 2008.
Finding original presents for Mothers Day can be a difficult task for consumers, who often resort to wandering the high streets from shop to shop in a vain attempt to find something special.
However, Dotcomgiftshop takes the hassle out of the process, as visitors to the site can browse through the huge range of Mothers Day presents and purchase online from the comfort of their own home and then have everything delivered to their doorstep in time for Mothers Day.
All of the Mothers Day presents on offer have been categorised into easy-to-navigate sections, taking the strain out of finding the right gift.
There are specialist areas for buying unique Mothers Day presents where visitors to the site can find ideas and inspiration. For instance, a jewel-handled box containing a set of three rose-scented mirrored candles in butterfly-design glass makes a highly desirable gift to delight the senses. Or for something a little more unusual, how about the 'Glow in the Duck' pink LED bath duck?
For those on a tight budget, there are many cheap Mothers Day gifts on offer which will make the money go a lot further, such as a ceramic cake trinket box, priced at just £2.99.
But for those with a little more to spend there is still a multitude of presents to choose from, such as the green ladies' bathrobe with pink roses for £29.95 or the blue and white Provencal design queen size quilt for £99.95.
So Dotcomgiftshop caters for everyone, from those looking to buy gifts for just a few pounds to the more lavish spenders out there.
With Mothers Day fast approaching, Dotcomgiftshop offers quick, simple solutions to the toughest gift-buying dilemmas. Anyone stuck for Mothers Day present ideas can browse the wide range of gifts available and get immediate inspiration.
To view the full range of Mothers Day presents, visit http://www.dotcomgiftshop.com
# # #