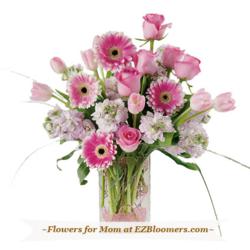 I have received flowers purchased through EZBloomers.com a few times now and they have been absolutely gorgeous every time. I am very impressed to say the least.
Scottsdale, AZ (PRWEB) May 04, 2011
Abner Maldonado, consultant for EZBloomers.com, was a featured guest on Mother Love Live, a show dedicated to showcasing informative guests from all walks of life.
"I learned that most online flower buyers have no idea that they are paying middle men unnecessary fees and not getting their money's worth, something http://www.EZBloomers.com is set on changing. This is our new online flower service that's for sure," said Mother Love. "I have received flowers purchased through EZBloomers.com a few times now and they have been absolutely gorgeous every time. I am very impressed to say the least."
A 30 plus year veteran of the floral industry, Abner has been a consultant in the areas of Marketing, Accounting and overall business operations for more than 500 florists. He has designed and developed several Point of Sale systems including 1800Flowers first system in 1989, most of these systems are still in use today. Over the span of his career he has visited over 1,000 flower shops.
"I totally believe in the EZBloomers.com concept and have joined forces with Kimba Vasquez to turn the industry back around and put the emphasis where it belongs, between the Florist and the consumer and remove the middlemen," said Abner Maldonado. "The EZBloomers.com concept has been 100% accepted by consumers and florists alike."
Other online flower ordering sites lead consumers to believe they are the florist and not middlemen who come between the consumer and the florist. This tends to cause a poor shopping experience on many occasions. Because these sites fear losing the customer, they never let the consumer know who the florist is, nor will they let the florist know who the consumer is. With this model, should you need help with your order you will never speak with the actual florist who filled your order.
"Our concept is simple; we connect consumer orders to a quality florist in the EZbloomers.com community at no additional charge. Most online flower ordering companies charge a $15 service fee for the use of their site. And because our orders go directly to the florist, the florists do not have to pay the 20% commission and 7% clearing fee they pay to other sites. The florist receives the full value of the order. The consumer pays less and receives more value," Maldonado said. "And that's why EZBloomers.com is a win-win for the consumer as well as the florist."
At EZBloomers.com orders go directly to the local florist, not a middleman. The price the customer sees is the price the customer pays. There no are no commissions or service fees and the full amount the customer pays goes where it's supposed to: toward their order.
Fee free flowers combined with made to order flowers makes EZBloomers.com the best place to order flowers online.
Listen to Mother Love's interesting and stimulating conversation with Abner Maldonado floral industry expert and consultant to EZBloomers.com at http://www.latalkradio.com/Players/Motherlove/
About The Mother Love Show on LA Talk Radio.com
The Mother Love show airs Monday thru Friday from 2 - 4 p.m. PST is enlightening, entertaining and makes you think. She shares her personal trials, tribulations, failures and victories with her "Radio Babies". She has informative guests from all walks of life; from authors and physicians to community activists, actors and inventors.
About http://www.EZBloomers.com
EZBloomers.com is a web service for buying fee free flowers online; we match the customers flower needs with the most qualified local florists across the country.
# # #