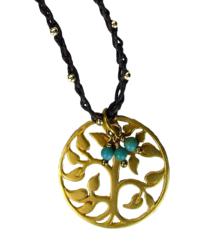 the perfect Mother's Day gift...symbolizing a mother's love - the Family Tree necklace
Franklin Lakes, NJ (PRWEB) May 10, 2012
Every mother yearns for it - that unique Mother's Day gift that conveys a special thoughtfulness, something that makes her feel as good as she looks. Handmade jewelry manufacturer SKM Artworks of Franklin Lakes, NJ offers that and more - the perfect Mother's Day gift that she will wear proudly year round symbolizing a mother's love - the Family Tree necklace.
The Family Tree necklace, is available in both 24k gold vermeil and sterling silver, and will be customized with the birthstones of your children or grandchildren for a truly personal gift. This versatile 36 inch necklace is handwoven on Irish waxed linen and can be worn long or doubled. If it is just too late to get it there on time, the company will send a lovely email describing the piece for you to print out and include in her card so that she will know what she can look forward to.
SKM Artworks offers a collection of meaningful wearable art created by weaving stunning jewels and precious metals within Irish waxed linens and certified-green leathers...rustic and spiritual with a luxury twist. Owner and lead artisan Susan Miller handcrafts her items using techniques that she developed to merge the craft of crochet with the art of jewelry making. By carefully choosing the gems she works with, Miller has managed create an affordable line that has striking visual appeal, amazing stylistic flexibility, with a unique look that stands out in any environment.
SKM Artworks is currently available at http://www.shopSKM.com and various exceptional east coast boutiques and jewelry stores. Retail prices for SKM's necklaces range from $89-$299; earrings, $45-$125; bracelets $59-$199.