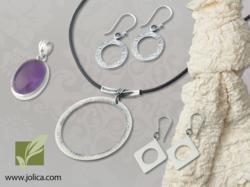 " My husband Ted and I are inspired knowing that every sale makes it possible for people in developing countries to earn a living wage, working in healthy workshops." said Darlene Loewen, Jolica Co-Founder
Fonthill, Ontario (PRWEB) May 07, 2013
Mothers have a reputation of appreciating (almost) any Mother's Day present, but this year they may look at their gifts at little differently. What might have been considered a cute gift a few weeks ago will very likely inspire questions and perhaps even sadness. Who made the gift? How were they treated? Thoughts will go to the many mothers who were lost and who lost their children and spouses in the now famous Bangladesh factory collapse.
Fair Trade gifts, on the other hand, will be truly appreciated by moms here, as well as by families in developing countries. Jolica is a great place to buy beautiful and well priced Fair Trade jewelry, scarves and handbags. Jolica's product line can be found online and at home and community events.
" My husband Ted and I are inspired knowing that every sale makes it possible for people in developing countries to earn a living wage, working in healthy workshops." said Darlene Loewen, Jolica Co-Founder.
Celebrating Mothers Day and World Fair Trade Day (WFTD) on the same weekend seems incredibly appropriate, especially this year. On the second Saturday in May, the day before Mother's Day, people here and around the world will march in parades and attend celebrations in honor of World Fair Trade Day. In developing countries they will celebrate the longest and loudest. For them Fair Trade is not just a theory, it is life-changing. Working in a Fair Trade workshop means being paid fairly and being treated with dignity and respect, just as consumers expect to be treated for the work they do.
Mothers often play a large role in teaching children how to treat others. Showing our appreciation for all they have taught us and what they mean to us with a Fair Trade scarf, handbag or piece of jewelry will speak volumes and have many positive effects. Mothers will be thrilled with the thoughtfulness of the gift, and the fact that the giver is concerned with worker rights; the people who made the gift will have been paid and treated fairly; and retailers will hear consumers' message - that the people who produce what we buy should be treated fairly!
Celebrating Mother's Day with a Fair Trade gift has never felt better, nor been more appropriate.
About Jolica:
Founded in 2005 by Darlene and Ted Loewen, Jolica is a privately owned direct sales company based in Fonthill, ON. Jolica, http://www.jolica.com, sells handcrafted jewelry, scarves and leather products through independent Gift Consultants across Canada and the US.
Its line of handcrafted accessories are created by artisans in Chile, India, Indonesia, Nepal, Peru and Thailand, and are purchased according to the principles of Fair Trade to ensure maximum benefit to the artisans. Jolica is a proud member of the Fair Trade Federation and the Direct Selling Women's Alliance.
Five percent of all sales go to the Jolica Foundation.
###
Contact:
Ingrid Heinrichs Pauls
Public and Media Relations
(c) 905.330.9040
ingrid.heinrichspauls(at)jolica(dot)com
http://www.jolica.com