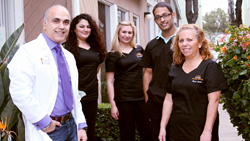 Los Angeles, California (PRWEB) March 13, 2014
With Mother's Day approaching fast most people are looking to find a way to make their mother smile and what way better than a brightened smile by getting her a Zoom teeth whitening session? A renowned Los Angeles Dentist Dr. Kanani is now offering Zoom teeth whitening for only $129.00 with the original value of $399.00, to show his appreciation for all mothers. Patient's can call Dr. Kanani's dental health spa (818) 962-1141 and mention Mother's Day specials to either buy a session for themselves or purchase a gift certificate for their mothers.
As one of the most popular dentists in Woodland Hills, Dr. Kanani is highly skilled in oral surgery and other general aspects of general dentistry in Woodland Hills. Here are some of the top procedures that his patients tend to undergo.
1. Zoom! Teeth Whitening.
Dr. Kanani is a master when it comes to teeth whitening. Zoom! teeth whitening is a new and innovative procedure that whitens teeth in under one hour. All it takes is one session to the dentist and patients will walk out feeling and looking great. Zoom! teeth whitening does exactly what it says it will. It lightens up discolorations of enamel and dentin that leads to light and clean teeth.
2. Dental Implants
Known as the long term solution to tooth loss, dental implants are one of Dr. Kanani's specialties. As one of the most popular experts in this field, Dr. Kanani is responsible for engineering the Flap-Less/Drill-Less Surgery method. This technique of inserting dental implants has been hailed as one of the most revolutionary inventions in the dental world. Dr. Kanani will use a series of dental instruments to expand the jawbone. The expansion will form a small gap into where he will insert the dental implant. The gap will then be left to heal and a replacement tooth will then be placed over it. One of the main benefits of Dr. Kanani's method is that he does not cut into the gum or drill into the jawbone. This relieves the patient of tremendous pain and post-surgery healing. Another benefit to the Flap-Less/Drill-Less Surgery method is that patients need not undergo block bone graft surgery first. This means that dental implants cost significantly less with Dr. Kanani's procedure. As the cherry on top of the cake, this family dentist Woodland Hills is offering this procedure at a starting rate of $395 in conjunction with Mother's Day.
Fillings
Another common procedure is getting fillings. When a cavity is detected, a filling is the next step. Depending on how severe the cavity is, Dr. Kanani will first numb the area and proceed with the drilling process. Drilling is done to remove the tooth decay. Dr. Kanani will then use composite fillings to fill the cleaned out cavity. Everyone from kids to senior citizens suffer from cavities and although the procedure is relatively simple, Dr. Kanani recommends that patients take better care of their oral health to avoid more fillings.
Root Canals
Getting a root canal done is a fairly simple procedure. Dr. Kanani will first administer some topical anesthetic to numb the area and he will then drill root canal files into the tooth. These files allow the dentist to clean the infected area thoroughly. Once all debris has been properly removed, Dr. Kanani will place a temporary filling into the hole until the infection has cleared. As a final step, the patient will be asked to return to the dentist to have the tooth properly sealed.
Aside from the aforementioned procedures, Dr. Kanani also offers a myriad of other services, so feel free to contact this top general dentist Woodland Hills by calling (818) 962-1141 or visiting http://www.woodlandhillsdentalspa.com.