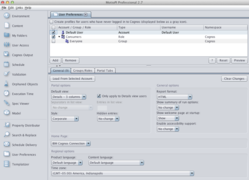 We chose to partner with Motio because their solutions are fully compatible with existing applications of IBM Cognos BI and result in a perfect integration of new features that greatly enhance its operational capabilities for customers.
Dallas, TX (PRWEB) September 04, 2012
Motio, an award winning producer of products which streamline, optimize and extend IBM Cognos based in the United States, signed a partnership agreement with KMG in Argentina to resell their software solutions.
KMG is a Business Intelligence firm, focusing on sales of Cognos TM1 and Cognos Business Intelligence along with specializing in services and methodologies aimed at optimizing the use of these implementations.  KMG has been a Master Cognos distributor since 1995 and is one of the largest BI companies in Buenos Aires.  KMG consists of highly trained and certified professionals providing extensive experience in planning/forecasting, business intelligence and corporate performance management to effectively meet the needs of their clients.  KMG is certified ISO 9001, an IBM Premier Business Partner and has an impressive client portfolio of multinational organizations located in Latin America, USA and Canada.
"Currently, our customers who have been working with us with IBM Cognos BI solutions for a long period are growing faster, need to organize and optimize their development processes, their promotions to other environments, the traceability of changes,  etc.  We have many customers of Cognos BI Argentina so we have to give them the opportunity to reach the next level of functionality in a simple and controlled way," said Diego Machena, Director General of KMG.  We chose to partner with Motio because their solutions are fully compatible with existing applications of IBM Cognos BI and result in a perfect integration of new features that greatly enhance its operational capabilities for customers.  These tools are designed to assist developers and administrators of IBM Cognos, to enrich the consumer experience of BI and simplify management for large installations."
Over the past decade, the economy of South America as a whole has made great strides. The economy of Brazil is the second largest in the Americas, while the economies of Colombia, Argentina and Chile have also exhibited strong growth. This has lead to an increase of the need for information and the use of sophisticated Business Intelligence platforms like IBM Cognos.
"South American BI teams can work smarter and faster with the advanced platform of tools which Motio has built around Cognos," said Edwin Van Megesen, Director of South American Sales. "Cognos users across the world share many common challenges. Our aim is to empower Cognos teams regardless of their geographic coordinates."
One of the software solutions KMG will resell, MotioCI, is used to streamline lifecycle management and automate Cognos testing, so that BI teams can rapidly produce and deploy high quality Cognos BI content.  
"Version Control and Automated Testing are two of the central precepts of an Agile BI team," said Lance Hankins, CTO of Motio.  "Our patented MotioCI platform streamlines the entire BI development process.   It provides version control for BI content and configuration, catches defects early through the use of automated testing, and enables BI teams to stay focused on solving BI problems."
MotioCI's release management capabilities also make it easy for teams to implement sophisticated and reproducible rollout strategies when deploying new releases of their BI content.
"By leveraging MotioCI's impact analysis feature, BI teams can gain quantitative insight into the behavior and performance of a new BI release, before committing to it," said Roger Moore, MotioCI Product Manager.  "It's also nice to have a push-button rollback capability, in case something goes wrong.  MotioCI can certainly give BI managers peace of mind in that regard."
MotioPI, Motio's popular free tool for IBM Cognos administrators, report authors and modelers is also available to the South American market.  MotioPI and MotioPI Professional are designed to ease the burdens of IBM Cognos administrators by providing them greater insight into the content and configuration of their Cognos environments and automating otherwise tedious and error prone tasks.
Motio is no stranger to international business. For years Motio has conducted business throughout Europe, Asia and Australia. However, this venture does mark the first time Motio will promote products in a second language. In coordination with the South American expansion, Motio has also created several dedicated social media channels specifically for communicating with Spanish speaking Cognos users.
About Motio, Inc.
The product teams at Motio start with a passion for the art of software development and expand upon this fundamental principle by asking, "How can we make Cognos better?" From this philosophy, Motio produces award-winning software focused on optimizing the quality, scalability, and security of IBM Cognos. Motio software is used by customers around the globe in over 60 countries. Motio, an IBM Premier Business Partner, empowers Cognos teams by removing burdens and enabling them to focus on the essential complexity of Business Intelligence.
For more information about Motio, visit  http://www.motio.com