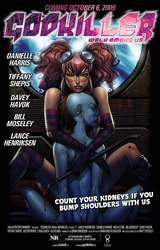 one of the best online animated series to date
Los Angeles, CA (PRWEB) September 22, 2009
Hack/Slasher Tim Seeley, Godkiller Matt Pizzolo, and the sick bastards at Halo-8 Entertainment are bringing dark, adult animation back... and genre starlets Danielle Harris & Tiffany Shepis are their femme fatale muses! In celebration of the imminent release of Godkiller Episode 1, Tim Seeley illustrated a limited-edition poster of Godkiller's lovable organ-stealing duo Halfpipe (Harris) and Angelfuck (Shepis).
There was a time when smart, sophisticated, darkly-imagined animated films for twisted adults were being produced in the US by psychotic artists like Ralph Bakshi and Sam Kieth... well, the good news is those times are back and weirder than ever! Rob Zombie is imagining big-boobed, naughty Nazis in his Haunted World of El Superbeasto, Guillermo del Toro is bringing animated horror to the Mouse House, Watchmen Motion Comics' Dr. Manhattan and Rorschach are watching over the Warner lot, and Halo-8 Entertainment is working double-time to match visionary artists with bleeding-edge filmmakers for an entire slate of ass-kicking animation by a team of brash comic book storytellers including Tim Seeley (Hack/Slash, Loaded Bible) and James Farr (Xombie).
Leading the charge is Matt Pizzolo's Godkiller, a mindblowing, transgressive, blitzkrieg of post-nuke madness featuring the voice talents of Danielle Harris (Halloween 4, 5, I, II), Lance Henriksen (Alien vs Predator), Justin Pierre (singer of Motion City Soundtrack), Tiffany Shepis (Night of the Demons), Bill Moseley (The Devil's Rejects), Nicki Clyne (Battlestar Galactica), Katie Nisa (Threat), Lydia Lunch (Richard Kern's Hardcore), and Davey Havok (singer of A.F.I.).
'Godkiller: Walk Among Us' Episode 1 comes to DVD on October 6th, 2009 and is available for pre-order on Amazon.com.
The trailer is posted here and optimized for easy embedding.
About the Godkiller: Walk Among Us dvd series:
Godkiller's innovative release schedule that brings the episodic nature of comic books to DVD will roll out as follows:
October 6th 2009: Episode 1 limited edition, shortform DVD
November 24th 2009: Episode 2 limited edition, shortform DVD
January 26th 2010:
Day & Date -
Theatrical Premiere of full feature
Episode 3 limited edition, shortform DVD
March 30th 2010: Full feature DVD & Blu-ray
'Godkiller: Walk Among Us' is the epic story of a boy on a quest to save his dying sister. Based on the comic book Pizzolo created with Anna Muckcracker, Godkiller takes place in a dark-future after economic collapse, after nuclear holy war, and after Earth is colonized by alien races. Tommy and his kid sister Lucy live in an orphanage in one of the few remaining city-states, but Lucy is critically ill and desperately in need of a new heart. Tommy's odyssey to find a new heart for his sister begins when he follows an organ-stealing prostitute named Halfpipe out of the city-state and into the savage borderland known as Outer City. Godkiller mixes unforgiving brutality, quantum physics, conspiracy theory, and secret history for an iconoclastic hero's journey like none before it.
'Godkiller: Silent War' is the story of the end of civilization as we know it. In the near future, 17 year old Joe Junior and his girlfriend Bee run a speakeasy in the basement of an abandoned NYC church where they serve narcotic drinks to underagers while providing sanctuary and black-market employment to draft dodgers. When Joe is recruited by an armed cult of populist assassins, he is thrust into a secret world of international cabals, alien conspiracies, and the countdown to Armageddon. [Silent War is a sci-fi/urban-fantasy novel that will be released as a serialized audiobook on the Walk Among Us dvds]
About the Godkiller 'illustrated film'
The 'illustrated film' Pizzolo, illustrator Anna Muckcracker, and animator Brian Giberson are creating for the adaption mixes elements of anime, radio drama, video games, and motion comics. Utilizing the original artwork from the comic book, the 'illustrated film' adds 3D CGI, motion animation, visual effects, elaborate sound design, music, and dramatic voice-acting performances.
Pizzolo explained "When we decided to make an anime adaptation of the comic book, I couldn't see how a traditional animated approach would do justice to Anna's incredibly lush and detailed illustrations. It made perfect sense to adapt the medium to suit her art, rather than vice versa."
About Halo-8 Entertainment
Halo-8 Entertainment is a Hollywood-2.0 movie studio using bleeding-edge strategies to create and distribute daring new films and lifestyle videos. Recent releases include the megapopular animated series Xombie: Dead On Arrival (which Bloody Disgusting called "one of the best online animated series to date"), the legendary NY hardcore documentary N.Y.H.C. (which Cinematical called "smashing... a terrific, well-told, engaging story"), the award-winning hardcore-punk thriller Threat (which Urb Magazine said "makes Kids look like an after-school special"), and the campy, interactive horror-DVD-game Slumber Party Slaughterhouse: The Game (starring Tiffany Shepis, Joanna Angel, Melissa Bacelar, Masuimi Max). Upcoming releases include the psychedelic horror In A Spiral State (which Dread Central called "mindbending"), the erotic-art documentary The New Erotic (featuring XXX-auteurs Eon McKai, Kimberly Kane, Dave Naz, Jack The Zipper, Alejandra Guerrero), and the iconoclastic hero's journey Godkiller (which Fangoria called "a genre-star-studded opus").
###