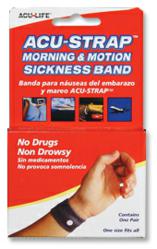 Drug Free Motion Sickness And Morning Sickness Nausea Aid Now Available From True Healthy Products, An All Natural Health And Wellness Company
(PRWEB) January 13, 2012
A drug free alternative for nausea is now available from natural wellness company, True Healthy Products to fight nausea from morning sickness, anesthesia, chemotherapy and travel sickness. The new product to join the company's product line, is called "Acu-Strap ™ Morning & Motion Sickness Band". Each box contains two bands which rely on the principle of acupressure to ease nausea.
More information on the Acu-Strap Morning and Motion Sickness Band can be found on the company's website here:
http://www.truehealthyproducts.com/products/health-wellness/motion-sickness-relief-band-acu-strap
"Please share my thanks--the ACU-LIFE motion sickness bands were a lifesaver! What a great product! I recently traveled on a cruise in very rough seas in the midst of a huge storm... but without ANY "sea-sickness" for an entire week. Thank you!," Ron M, actual user.
Each strap contains a button that rests on the Nei-Kuan which is a pressure point on the wrists to relieve nausea. By positioning the strap over this pressure point, nausea symptoms can be controlled. According to the manufacturer, better results are achieved if the bands can be applied before nausea occurs, for example before boarding a boat.
The bands are gray colored and a little over an inch wide. The one size fits all bands are made with a washable material that look similar to athletic wristbands.
The Acu-Strap™ Morning & Motion Sickness Band is one of many new products that are being added to True Healthy Product's product line for 2012. The company focuses on all natural products for health, wellness, sports nutrition, and beauty needs.
To learn more about The Acu-Strap or other natural and truly good for you products offered by the company, visit the company's website at http://www.truehealthyproducts.com.
True Healthy Products
2460 N. Courtenay Parkway, Unit 210
Merritt Island, FL 32953
888-400-2920
###