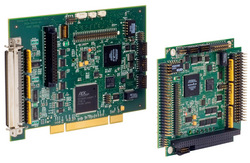 Lincoln, MA (PRWEB) July 1, 2009
Performance Motion Devices, Inc. (PMD) announces the newest addition to its latest advancement in the Prodigy® family of motion cards, the Prodigy/CME PCI card. Just like PMD's PC/104 and Stand-Alone card options, the new programmable PCI card provides machine designers the capability to download and run motion programs directly on the cards. This new capability off-loads the PC host and increases the flexibility to distribute motion programs throughout the machine.
The Prodigy/CME PCI card is an ideal solution for demanding scientific, automation, industrial, and robotic applications. These motion control cards support multiple motor types, including DC brush, brushless DC, microstepping, and step motors. Prodigy/CME PCI cards are available in 1, 2, 3, and 4-axis versions and are designed in surface mount technology. PMD's development software ships with each card, and includes Pro-Motion® GUI, C-Motion® API, and VB-Motion®.
C-Motion® Engine
Programming is made easy with C-Motion®, a source code library of motion commands for development of C/C++ programs that run on the Prodigy Motion Cards. PMD's C-Motion® Engine stores and independently runs the downloaded motion control code on the Prodigy Motion Cards.
Prodigy cards provide high performance board-level motion control for scientific, industrial, robotic, and general purpose automation applications. These cards support multiple motor types including DC brush, brushless DC, step, and microstepping motors, and are available in 1, 2, 3, and 4-axis versions. Based on PMD's industry leading Magellan® Motion Processor, the Prodigy cards provide user-selectable profile modes including S-curve, trapezoidal, velocity contouring, and electronic gearing. Servo loop compensation utilizes a full 32-bit position error, PID with velocity and acceleration feedforward, integration limit and dual biquad filters for sophisticated control of complex loads. Prodigy Motion Cards come with serial, CAN and Ethernet communications options. The new motion cards are available in OEM quantities starting at $575.
Features:

Board-level C-Motion program execution
Uses PMD's advanced Magellan Motion Control IC
High-speed servo loop rate: 50 µsec/axis
Available in 1, 2, 3, & 4 axis versions with user selectable motor type by axis
C-Motion® Engine peak performance : 96 MIPS with 256kB of code space
High-speed motion trace for servo tuning diagnostics (up to 64 KB)
S-curve, trapezoidal, electronic gearing, and user-generated profile modes
Motor Command: 16-bit analog, pulse & direction, PWM
Incremental and parallel encoder input
Dual loop encoder feature
PID filter with velocity and acceleration feedforward and dual biquad filters
Prodigy I/O

2 limit switch inputs / axis
2 high speed capture inputs / axis
1 dedicated output / axis
8 general purpose digital inputs
8 general purpose digital outputs
8 general purpose analog inputs
About PMD:
Performance Motion Devices, Inc (PMD) provides OEMs worldwide with innovative, high performance chip, card, and drive-based motion control solutions. With over 2.5 million installed axes, PMD has the motion control expertise to simplify customer's designs and lower overall costs. PMD products are used to control brush, brushless and stepping motors in the medical, commercial and industrial markets.
Performance Motion Devices
55 Old Bedford Rd
Lincoln, MA 01773
tel: 781.674.9860
fax: 781.674.9861
http://www.pmdcorp.com
# # #