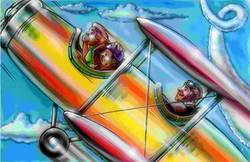 So, I knew I had to find a remedy for my motion sickness, one that was completely natural and absolutely effective
Winchester, California (PRWEB) December 11, 2007
Sam C Puma MD, president of Puma Applied Science, recently was awarded a methods patent for his unique video, Puma Method for Prevention of Motion Sickness. The video demonstrates a series of simple conditioning exercises that are done at home to naturally prevent the nausea, dizziness and other symptoms experienced by many while engaging in activities that cause motion sickness.
Dr. Puma was a USAF Flight Surgeon at NASA's Manned Spacecraft Center in Houston, Texas in the mid 1960's. He developed the Puma Method exercises to overcome the motion sickness he experienced on his first flight with the astronauts. "I had aspirations of becoming a fighter pilot or even an astronaut myself," recalled Dr. Puma. "So, I knew I had to find a remedy for my motion sickness, one that was completely natural and absolutely effective".
Based on his medical knowledge and research, Dr. Puma developed a series of exercises that gradually increases a person's tolerance to a variety of motion sickness producing activities, such as traveling in a car, boat, train, airplane or even amusement park rides. The mild head, neck and upper body movements use the body's own mechanism, called habituation, to desensitize the brain to the overwhelming or conflicting sensory messages that cause motion sickness symptoms.
The exercises take only about 15 minutes a day. Positive results, that is conditioning, begin right away and substantial relief from motion sickness can be seen in as little as one to two weeks. Once conditioning is achieved, continued exposure to the provocative activity will maintain the new tolerance level. If a person's tolerance level to certain motions diminishes because they have not experienced those motions in a while, a few days of the exercises will boost conditioning to its former level.
Over the years, Dr. Puma personally taught his method for preventing motion sickness only to family and friends. He found it was 100 percent effective. In an effort to make the Puma Method available to more motion sickness sufferers, Puma Applied Science, under the direction of Dr. Puma, produced a video that provides information about motion sickness and conditioning. Most importantly, it explains and demonstrates the Puma Method exercises. It is on this unique program that Dr. Puma received his patent.
For additional information on Puma Method for Prevention of Motion Sickness contact Susan W. Puma or visit http://www.pumamethod.com.
About Puma Applied Science, Inc.:
Founded in 1995, Puma Applied Science is a privately held research and development company specializing in aerospace medical concerns, human factors, and life support systems. The company is headquartered at Pines Airpark, Riverside County, California.
Projects under development include a high acceleration aircraft to gather data on gravity-induced loss of consciousness and an associated sensor, and a hands free computer interface for persons with disabilities.
To view an introductory video on the habituation exercises, click http://www.pumamethod.com/exercise_preview.php?osCsid=6b8f34a747bb970a8ebc0a691420e68f or http://www.pumamethod.com/intro_video.php
Contact:
Susan W. Puma, Vice President
Puma Applied Science
951-926-5770
http://www.pumamethod.com
###