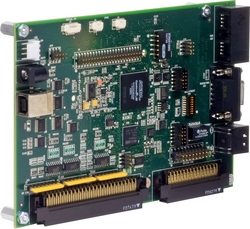 This new stand-alone card offers OEM machine designers a compact, stackable format and the ability to download motion control programs with the on-board C-Motion Engine. This stand-alone card along with the rest of the Prodigy family of motion cards creates a formidable tool set for motion system designers
Lincoln, Mass. (PRWEB) January 8, 2009
The latest innovation in the Prodigy family of motion cards from Performance Motion Devices, Inc. (PMD), is a stand-alone format that does not require a host bus connection. This new stand-alone design provides the capability to download motion programs to the Prodigy card for onboard execution, off-loading or eliminating the PC host and increasing the ability to distribute independent motion programs throughout the machine.
Downloadable Programming
Multiple versions of the stand-alone card are offered for 1, 2, 3, and 4-axis applications. All versions measure 6.3" x 4.23" (16cm x 10.7cm), providing a small form factor for space constrained designs. They are available with horizontal connectors or optional vertical connectors for stackable configurations. This provides designers with greater versatility in choosing mounting locations and cabling options.
New support for UDP and TCP Ethernet communication protocols, in addition to existing serial and CANbus protocols, allow the Stand-Alone Prodigy to operate in a wide variety of networking environments.
Downloadable Programming and the C-Motion® Engine
Program development is simplified through the use of PMD's C-Motion development suite that includes an extensive library of proven motion control code as well as an array of development and debug tools. The powerful C-Motion command set includes an extensive source code library of motion commands that speed development of standard C/C++ programs. In addition to handling the motion control functions, the C-Motion Engine can also manage digital and analog I/O signals locally allowing for much faster system responses and a reduced need for supplemental I/O cards in the system.
Prodigy Stand-Alone cards provide high performance board-level motion control for scientific, industrial, robotic, and general purpose automation applications. The motion control functions are handled by PMD's industry leading Magellan® Motion Processor that is tightly integrated with the C-Motion Engine. Users can program a variety of motion profiles including S-curve, trapezoidal, velocity contouring, and electronic gearing. Servo loop compensation utilizes a full 32-bit position error, PID with velocity and acceleration feedforward, integration limit and dual biquad filters for sophisticated control of complex loads. Motor type and feedback type can be selected independently for each axis. Prodigy supports DC brush, brushless DC, step, and microstepping motors. The new Prodigy Stand-Alone Motion Cards with downloadable programming are available in OEM quantities starting at $575.
"This new stand-alone card offers OEM machine designers a compact, stackable format and the ability to download motion control programs with the on-board C-Motion Engine. This stand-alone card along with the rest of the Prodigy family of motion cards creates a formidable tool set for motion system designers" - Chuck Lewin, Founder and VP of Engineering, Performance Motion Devices, Inc.
Stand-Alone Motion Card Features

Onboard C-Motion program execution
C-Motion® Engine peak performance : 96 MIPS with 256kB of code space
Uses PMD's advanced Magellan Motion Control Chip
High-speed servo loop rate: 50 µsec/axis
Available in 1- thru 4-Axis versions with user selectable motor type by axis
Direct amplifier commutation signals supporting 6-step (Hall-based) and sinusoidal commutation
High-speed motion trace for servo tuning diagnostics (up to 40 KB)
S-curve, trapezoidal, electronic gearing, and user-generated profile modes
Motor Command: 16-bit analog, pulse &direction, PWM
Incremental and parallel encoder input
Dual loop encoder feature
PID filter with velocity and acceleration feedforward and dual biquad filters
PCI-bus, PC/104 (ISA), CANbus, Ethernet, or serial communications (RS232, RS422/485)
Prodigy I/O

2 limit switch inputs / axis
2 high speed capture inputs / axis
1 dedicated output / axis
8 general purpose digital inputs
8 general purpose digital outputs
8 general purpose analog inputs
About PMD
Performance Motion Devices Inc. (PMD) provides OEMs worldwide with cost-effective, high performance chip, card, and drive based motion control solutions. With over 2.5 million installed motion axes, PMD products are used to control brush, brushless and stepping motors in the medical, commercial and industrial markets.
Performance Motion Devices
55 Old Bedford Rd
Lincoln, MA 01773
tel: 781.674.9860
fax: 781.674.9861
http://www.pmdcorp.com
###