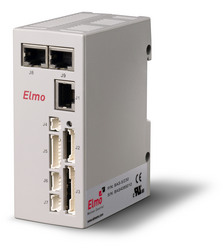 forfeits nothing in functionality and offers all the dynamics, precision and functionality of much larger servo drives
Tel Aviv, Israel (PRWEB) June 30, 2008
Elmo Motion Control announced today an improved addition to its SimplIQ products line. The Bassoon with Absolute Encoder is a servo drives that delivers up to 1.9KW of continuous power (3.8KW peak). The Bassoon is one step further in Elmo's leadership to incorporate highly efficient and super compact power density products.
Highlights of the Bassoon include:

The Smallest AC input servo drive
Ultra high qualitative power density
Delivers up to 1.9KW of continuous power, and 3.8KW of peak power
Drive/controller combination
Provides a wide variety of feedback options
Capable of operating in position, velocity and current modes
Easy to set-up via CANopen protocol DS-301 & DSP-402
Dimensions: 105x44x76mm (4.13" x 1.73" x 3.00")
integrated power supplies with shunt regulator
SimplIQ core motion control technology
Although extremely compact, the Bassoon series drives "forfeits nothing in functionality and offers all the dynamics, precision and functionality of much larger servo drives" with a specification that integrates position loop, and both digital current and digital velocity loops, all with auto tuning adjustment. Fully programmable and extremely flexible, the Bassoon is available as a fully digital position ,velocity or current mode amplifier, as a network drive in distributed motion systems using the CANOpen interface, or as a standalone motion controller for single axis servo control. The bassoon is suitable for applications like robotics, machine tools, packaging, semiconductor production, materials handling, sorting, printing, textiles and many more.
SimplIQ Core Motion Control Technology
The Bassoon is based on Elmo's core motion control technology and benefits from advanced programming capabilities, rich set of feedbacks, versatile power capabilities and communication support. The Bassoon is capable of operating in position, velocity and current modes and contains a wide range of feedback and I/O options. By using Elmo's software, users can easily perform drive setup, configuration, tuning, analysis and programming.
About Elmo
Elmo Motion Control is an innovative provider of feature rich motion control solutions for machine manufacturers. The company's product offering includes network-based motion controllers, intelligent digital servo drives and highly efficient servo amplifiers for both brush and brushless motors. For more information about the Bassoon servo drive, visit us at http://www.elmomc.com.
# # #