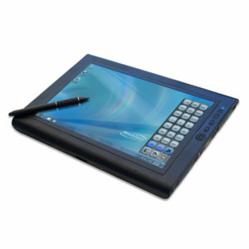 Motion has an entire suite of solutions meticulously designed to optimize utility workflows such as field inspections and asset management.
Chandler, Ariz. (PRWEB) February 19, 2013
Group Mobile, well known for carrying the top brands in rugged laptops, rugged tablet PCs, rugged smartphones, and rugged handheld computers has recently extended its product offerings to include the newest rugged tablet computer from Motion — the Motion J3600.
The Motion J3600 is a rugged tablet designed to meet the needs of those working in harsh mobile conditions such as construction, field services, and healthcare. Weighing only 3.6 pounds, the J3600 is rugged enough to withstand 3-foot drops, bumps, dust, rain standard cleansers, and extreme temperatures. The Motion J3600 is built around a large 12-inch dual touch display and is powered by the Windows 7 Operating System.
The Motion J3600 offers enhanced features to improve power, performance, and connectivity. It has greater than seven hours of battery life, up to 256GB SSD,16GB RAM, Bluetooth® 4.0, SmartCard reader, express card, biometric fingerprint reader, and hi-speed USB. In addition, Motion offers integrated upgrades for the J3600 including: built-in 3MP camera/video, Gobi™ mobile broadband, GPS, enhanced memory and system storage options, and Motion's View Anywhere® display technology which provides superior viewability in outdoor and other harsh lighting environments.
"Enabling mobility to improve work performance is what we are all about," said Peter Poulin Vice President of Marketing for Motion. "Motion has an entire suite of solutions meticulously designed to optimize utility workflows such as field inspections and asset management."
"We are pleased Group Mobile continues to add our newest systems to its product line," said Darla Ericson, Regional Territory Manager for Motion Computing. "Group Mobile's understanding of the rugged computer market combined with the company's exceptional customer service will help both companies continue to grow their rugged computer businesses."
Group Mobile offers accessories for the J3600 to increase workflows across environments. From the Work Anywhere Kit for extra screen protection and battery storage option, to the J-Series Bump Case or Mobile Keyboard, users have options to extend all-day usability and increase productivity. To learn more and order the Motion J3600, visit http://www.groupmobile.com/product.asp/sku=4795/dept_id=/mf_id=62/Motion+J3600+Tablet+Computer.html or call toll free 866-784-4338.
About Group Mobile
Headquartered in Phoenix, AZ, Group Mobile serves customers all over North America. Customers range from Fortune 500 companies and the U.S. Military, to local police/fire/ambulance, to small and mid-size businesses, to the frequent traveler that needs something more durable than a commercial, off-the-shelf computer. Group Mobile carries all the leading rugged computing brands. In addition, Group Mobile offers vehicle docking and mounting equipment from Gamber Johnson, Ram Mounts, Jotto Desk, and Havis/Ledco. To learn more about rugged computers and how they differ from commercial, indoor computers, check out the Rugged Computer Guide or visit us online at http://www.groupmobile.com.