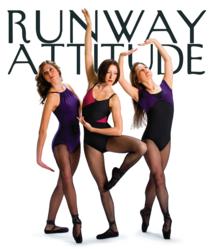 These leotards offer dancers a touch of high fashion with meticulously detailed features.
Indianapolis, Indiana (PRWEB) May 31, 2011
Motionwear LLC, a leading manufacturer of dance, gymnastics, team and cheerleading apparel, introduces a new, fashion forward dance apparel line. Inspired by runway couture lines, the Runway Attitude line brings new fabrics and unique treatments to the dance world.
"We scoured the runways and couture houses to create these fashion forward styles," said Motionwear Designer Katie O'Brien. "Each leotard has been painstakingly crafted. Our decadent new fabric, a nylon spandex blend, has been specifically fashioned to compliment the dancer's silhouette."
The inspiration for the Runway Attitude line came as a result of Motionwear's search for something new, something not currently available in the dance apparel marketplace. The focus was on stretching the dance apparel boundaries with a high fashion couture line of leotards using fresh new fabrics and exploring detailed treatments.
"It's something new in the market, something new for Motionwear," said Motionwear Executive VP Theresa Mason. "These leotards offer dancers a touch of high fashion with meticulously detailed features."
As active apparel trends change and customers demand more from their clothing and where they choose to purchase it, Motionwear continues to evolve. For 25 years, Motionwear has built a reputation for outstanding fit and quality setting the standard in active apparel for dance, gymnastics, team and cheer apparel.
To learn more about Motionwear and its product offering, visit http://www.motionwear.com.
About Motionwear
Motionwear is a premier provider of active apparel for dancers, gymnasts and cheerleaders of all ages and skill levels. Motionwear products are available in better dance and gymnastics retail stores nationwide, internationally and online at http://www.motionwear.com. At Motionwear, we make the best dance, performance, gymnastics and cheer apparel and accessories. Look your best, feel your best, perform your best with Motionwear, official leotard of Boston Ballet School.
# # #